Groucho: A Life in Revue will be presented by The Gilbert theater as the closing play of the season from June 5-16.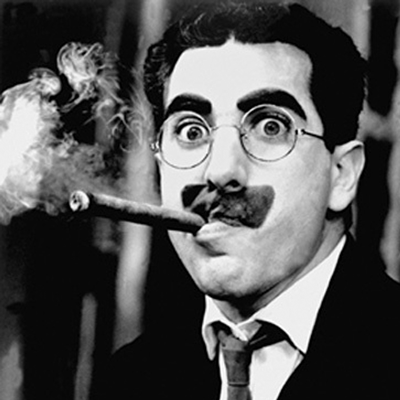 When asked about her choice for the closing show, Gilbert Artistic Director, Robyne Parrish quipped, "Why not? He is one of America's greatest comedians and film and television stars. Groucho Marx made an imprint on our society for all time with his off-color humor and brilliant wit.
"When I heard that a Pittsburgh artist regularly performed the play with music, Groucho: A Life in Revue, I knew it had to have a place in my first season as new artistic director of the Gilbert Theater."
Groucho: A Life in Revue is a musical stage play written by Groucho Marx's son, Arthur Marx, and Robert Fisher. It is a peek into the life and career of the famous entertainer. Marx and his brothers had an unmatched fl air for comedy. However, it was Groucho who became the reigning king of comedy in the '40s. He became well known for clever one line retorts such as "Marriage is a wonderful institution … but who wants to live in an institution?"
Marx could be viewed as vaudeville's precursor of the modern day rapiers for his quick wit, slapstick comedy and mastery of language and word play. Julius Henry "Groucho" Marx (1890-1977) was born on Manhattan's Upper East Side. One of Marx's maternal uncles (Al Shean) was part of a successful Vaudeville act. Despite Julius's desire to become a doctor, the family's poverty infl uenced his mother to encourage her sons to star on stage. The Marx brothers started as a singing group: Julius (Groucho) was a gifted vocalist, Leonard (Chico) a terrific piano player and Arthur (Harpo) played the harp. Eventually their comedy skits became much more popular than their music. They were among the biggest stars of the Palace Theatre and Vaudeville, in general. Groucho visually clarifi ed his character by the use of a stooped walk, grease- painted mustache and eyebrows and large glasses, all props to enhance his shtik.
Pittsburgh, Pennsylvania-based actor, dancer and director, Jeremy Czarnaik joins the Gilbert for this production. When asked about his character development in the role of Groucho, Czarnaik replied, "I discovered Groucho personally doing another show Day In Hollywood/Night In The Ukraine in 1990.
"I was cast to play him with little background knowledge, so I began my research ... and became obsessed with the comic genius that was Groucho," continued Czarnaik. "Since then, I have been an avid collector of all things Groucho, including a prized autographed 8x10 (photo) that I always incorporate into the set when I do this show. I have spent years studying and fine tuning my interpretation — this will be my sixth production of this particular show and every time I fi nd some more details."
When asked why this was a Gilbert production not to be missed, he explained, "Audiences love this show because of the real and intimate way in which you get to know Groucho. People's comments afterward always include 'I feel like I really got to know him, like I actually spent an evening with him.'" he said. "Whether you are a lifelong fan or know very little about the Marx Brothers, the beauty of this show is it is a touching memoir of a truly remarkable life that has plenty of laughs but as Groucho himself said, "...if I didn't know sadness, I wouldn't have spent all those years trying to make people laugh."
For more information or to purchase tickets and make reservations for the show, visit the website at www.gilberttheater.com or call 678-7186.
Photo: Groucho: A Life in Revue opens on June 5 at Gilbert Theater.