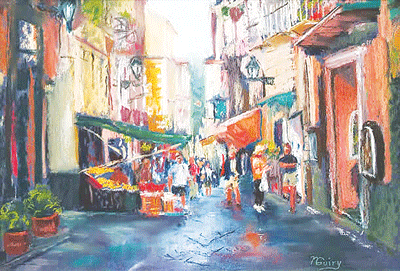 Humans have been creating and admiring art since the very beginning of civilization. Over time, techniques have been created and styles have evolved but appreciation has never diminished. Cape Fear Studios is a nonprofit organization that is dedicated to bringing free art and art education to the community, and one way that they do this is through nationwide and local competitions. This year CFS will be present its fifth annual National 2D Competition.
This year the exhibit is sponsored by BB&T, and has many incredible and varied works of art. Ellen Olson Brooks, executive director, says, "People who visit this exhibit will find a huge range of painting styles, painting content, and painting approaches. The show includes oils, pastels, watercolors, colored pencil, mixed media, pen and ink, graphite drawings, portraits, landscapes, flowers, beach scenes, abstract work ... a huge range of 2D work. It is an exciting show and it is eclectic. The exhibit is one of my favorite shows all year at Cape Fear Studios because it brings in such a huge variety of work, and it offers our community the chance to see a large, rich, national show that is juried by a well-known artist. That is a rare thing in the Fayetteville area."
Cape Fear Studios are located in downtown Fayetteville, but its reach is extensive.
"We have works from artists who live in California, Texas, Maryland, Florida, South Carolina, Colorado, Virginia, Indiana, Ohio, New York and North Carolina. The competition is growing in reputation and in size," Brooks said.
There are few competitions in the country, let alone in Fayetteville, that have as far of a reach. Consequently, as the competition grows in reputation and reach, it has also grown in size. This competition is the largest exhibit that the studio has hosted. After placing a call for art , the CFS received more than 70 entries. Forty-six of those were chosen as finalists and are currently displayed in the studio. In the first few years there were around 20 finalists.
This year the award money totals $1,700. $1,000 will be awarded to the Best of Show and $350 will be awarded to First Place and Judge's Award. This year the juror, Mike Rooney, had quite the challenge in deciding who the top four winners would be from the record number of entries.
Rooney is a painter who has loved art his entire life. He is strongly influenced by The Cape Cod School of Art, and has a very open minded approach to painting. Brooks explains the judging process for the competition by saying,"The juror judges the first round of all the entries digitally ... on the computer and selects the finalists. He then decides the winners in person, by looking at all the paintings personally. This year, Rooney came to Fayetteville, taught a plein air workshop for three days, and juried the winners on his last day. We usually try to have the juror teach a workshop just before we open the show."
The 2-D Competition exhibit is open to the public until July 22. Admission is free. The exhibit is in Cape Fear Studios, which is located at 148 Maxwell St. For more information. visit the website http://capefearstudios.com/exhibits.html or call 433-2986. Questions can also be sent to the email artgallery@capefearstudious.com.
Photo: The Market Place, by Nancy Guiry of North Carolina is just one of many stun-ning pieces of art in the Cape Fear Studios National 2D Competition.