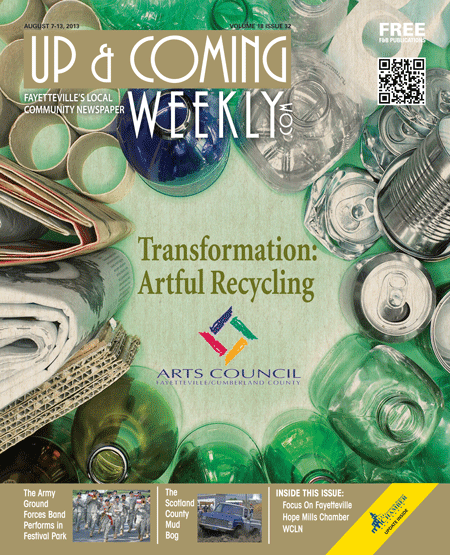 When many people see an empty plastic bottle, they see garbage. Artist David Edgar sees potential. A retired Associate Professor of Art at the University of North Carolina at Charlotte, Edgar has more than 25 years experience in the art world, including contributions as a production artist on Epcot Center and Tokyo Disneyland. His most recent exhibit, Transformation: Artful Recycling, is on display at the Arts Council through Aug. 17.
His work is colorful and playful, and consists mostly of plastic bottles that he transforms into brilliantly colored sea creatures and masks. Several local artists contributed to this exhibit as well. While using found and/or discarded objects in art is not a new idea, this exhibit offers an insightful and thought-provoking look at recycling and waste while offering whimsical and colorful creations.
"We have done a recycled art exhibit for the past several years in partnership with the city environmental resources department," said Mary Kinney. "Our sponsors are on behalf of the City of Fayetteville. This exhibit brings attention to the importance of recycling and turning trash into something wonderful, useful and enjoyable instead of putting it into landfills."
According to environmentalistseveryday.org, garbage has a huge impact on our lives and our planet.
"The average American discards 4.43 pounds of garbage every day. (EPA facts and figures). The total volume of solid waste produced in the U.S. each year is equal to the weight of more than 5,600 Nimitz Class aircraft carriers, 247,000 space shuttles or 2.3 million Boeing 747 jumbo jets (Beck)."
Dosomething.org further notes that more than 75 percent of waste is recyclable, but we only recycle about 30 percent of it and Americans throw away 25,000,000 plastic bottles every hour.
This year the exhibit was an invitational. It includes some local favorites as well as a visiting artist.
A professionally trained sculptor, Edgar spent more than three decades welding steel sculptures. Even then, his work included found objects. His first foray into recycled art involved a football game.
"We were new in Charlotte nine and a half years ago," said Edgar. "The day the Panthers played the New England Patriots in the Super Bowl we were invited to a party. I didn't have a hat or T-shirt, but I had a plastic bottle that was the right color blue. So I used that and part of a rotisserie chicken tray and some other scraps to make a mascot mask to take to the party. That was the beginning."
Maybe it's the whimsical nature of his pieces, or perhaps it is the "focus group approved colors" as Edgar calls them. Either way his pieces were well received from the beginning. So much so that now plastic is the only medium Edgar shows.
"When I first started working with plastic I thought I was in denial about my steel work and that I was not confronting my serious calling," said Edgar.
Then he entered a juried exhibit called Trashformation. "The curator was a guy named Lloyd Herman. He was the founding director of the Renwick Gallery at the Smithsonian, which is America's craft museum. He really liked the work. That was within the first 90 days of me trying something new," said Edgar.
Marcela Casals is a staple in the local arts scene and has contributed significantly to the culture of the area. In fact, she worked on the N.C. Veterans Park project making moldings of the hands of North Carolina veterans. Her pieces in this exhibit include "Expansion" and "Woodforestdream."
"Woodforestdream is a great addition to this exhibit," said Kinney. "We spend so much time thinking in flat planes. The words on a page are flat and we read from left to right. Looking out over the ocean we see a horizontal plane. This piece challenges us to think more vertically and to look at the world in a new way."
Phil Atwood created three pieces using found objects. One is called "Birdfeeder," and the other two are both titled "Elegant Birdfeeder."
Megan Dietzen made a stunning American flag using a wooden pallet and acrylic paint.
Greg Hathaway used found metal to create a piece called "Still a Rose." Other pieces contributed by Hathaway include wood and found objects titled "Small Fish," "Vessel:Nuclear Artifact," "Santee Cooper River Bouquet" as well as a series of junk owls.
Regina Lloyd-Dodd used magazines to create collages with titles like "Raeford Old Gin Mill," "Water is Life," "Country Window" and "Take Me There."
Brian Tyler submitted "Order," "Flower I and Political Arena," "3x#," "Flower II," "The Lottery," "Garden Ball I," "Garden Ball II," "Grape Table" and "Garden Table." The pieces are made of found objects and include drawers and mosaics.
Some of the things that Edgar especially appreciates about this exhibit is that the pieces address a serious topic in a fun and original way.
"I like that the work makes people smile. It is fun to watch people walk by and do double takes when they see my work. I think that it is good that artwork can have intellectual accessibility, that it ca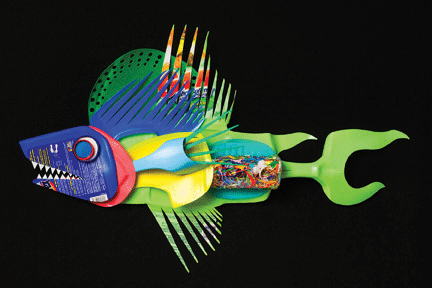 n be about something that is serious but it doesn't have to be heavy and intense. You can have fun with it, This is not over the top art that you can only appreciate it if you have a graduate degree. It resonates with people."
Transformation: Artful Recycling runs through Aug. 17, at the Arts Council, at 301 Hay St. Find out about this and other exhibits, events and opportunities at www.theartscouncil.com or by calling 323-1776.
Photo: Transformation: Artful recycling is a celebration of recycled art.