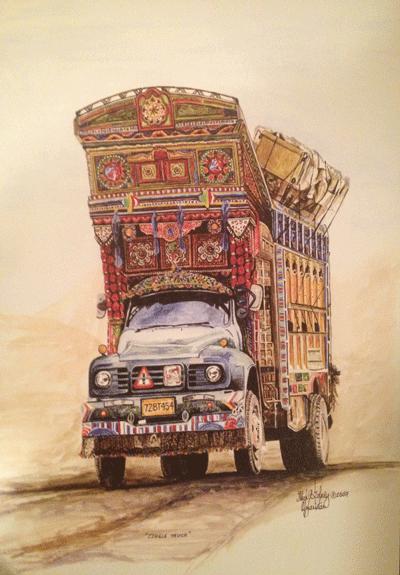 Michael Solovey is not your average artist. He does not sit, excluded from the rest of society, in a personal studio constructing his next Michelangelo-esque masterpiece to be auctioned off at some wealthy estate. No, Solovey is a member of the military who has served throughout the world in areas like Bosnia and Afghanistan. He uses his experiences to inspire creativity and form a powerful work ethic that can be inspirational for us all. Residents will be given the opportunity to view his work at Gallery 208 anytime during the business hours of 8:30 a.m. to 5 p.m. at the Up & Coming Weekly office.
Whether it be a commission by an Army unit or a personal project he creates for himself, he explains his way of approaching artwork on his website www.soloveyart.com.
"Success equals fulfillment. And to me, fulfilment is the combination of three very specific ideals that must be constantly pursued," Solovey says. "Probably the most rewarding concept for me is to 'build something from nothing' — whether that be a business, to composing a piece of artwork, to designing, engineering and then building an automobile from the ground-up. All the while, pouring every ounce of your energy, talent and heart into that specific initiative or ideal."
The Solovey Art Collection's vision is clear: Give back to the community and create artwork with passion and attention to detail.
Solovey continues to describe his experience as a writer.Solovey continues by describing what it means to share his work. "Then there is the process of taking that end product(s) and sharing it. And then hopefully, others will feed from it and find inspiration that carries over into their respective pursuits. Then take it a step further - and mentor those junior to you — especially, in my case, younger artists."
There's no doubt that younger artists have a reason to look up to Solovey's work and philosophy. He defines the American dream and success through his artwork.
One might categorize Solovey's work as military art but there is so much more. Solovey caters to a wide variety of art subjects whether it be old automobiles to paintings of people and locations. Solovey is also known for his sculpture, architectural renderings, landscapes and fine-art commissions.
Do not miss the opportunity to see Solovey's work yourself. Bring along any art lover and you'll be sure to find something to appreciate in this tribute of hard work and dedication. The exhibit is free.
Call 484-6200 for more information.
Photo: Jingle Truck is a depiction of the vehicles that are commonly seen in Afghanistan.