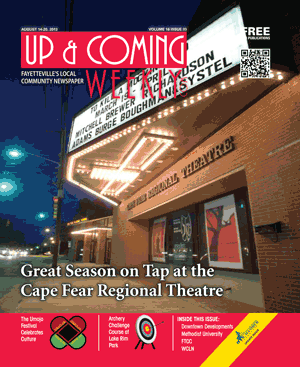 Those already familiar with Cape Fear Regional Theatre's top-notch productions anticipate the new theater season much the same way kids look forward to summer vacation each year. From the theatre's earliest days, founding director Bo Thorpe made careful selections for each season, inspired performers to give their all and delivered well-produced, award-winning plays to the community. As the organization has grown and transitioned through the years, it has continued to provide some of the best theatre productions in the region. When Tom Quaintance joined the team in 2011, stepping into Thorpe's role as artistic director, the theatre continued to flourish.

At the official announcement of the 2013-2014 theatre season, Quaintance reminded the audience that CFRT's motto and guiding principle is "Great stories told here." He added that "Great stories bring us together, bridge gaps between generations and cultures, inspire us, excite our imaginations and give us the opportunity to share what is important in our lives."

The season opens on Sept. 19 with an adaptation of Antoine de Saint-Exupéry's The Little Prince. The story was first published in French in 1943. "It is truly a tale for all ages - a fantastic journey through the stars for kids and a path for adults to remember what is important. As the wise fox said to the little prince 'It is only with the heart that one can see wisely what is essential is invisible to the eye.'"

The CRFT crew is already hard at work prepping for this gem. In fact, they have a few new tricks up their sleeve for the audience. "There are so many cool things about this play," said Quaintance. "We are working on a lift that will raise the Little Prince's planet so that it grows out of the stage. There are several very talented musicians in this. There will be live music and original compositions."

Quaintance sees this as a story for adults in a kid-friendly format, noting that this play will bring out the child in everyone. "This really is a family show and something that parents can enjoy with their children," Quaintance said.

Next in the line up is Sweeney Todd: The Demon Barber of Fleet Street. This Tony Award-winning masterpiece is set in London and features dark humor and wit. Drama and horror mingle with beautiful songs with humorous lyrics. Quaintance called the piece Shakespearean in scope, ambition and execution. The piece runs through Nov. 17 and will be directed by Quaintance.
"I was lucky enough to work on this piece in Chapel Hill over the summer, so it is fresh in my mind and will be much bigger than I first envisioned when we decided to do this play," said Quaintance.

A long time favorite, The Best Christmas Pageant Ever returns to the stage Dec. 5-15 for school performances and Dec. 3-13 for public performances. This show has been a part of the CFRT holiday repertoire for more than 20 years and includes local and regional actors in rotating casts.

"One thing that really strikes me about this play is that every year when we have a couple hundred kids come out to audition, if you ask them why they want to be in The Best Christmas Pagaent Ever they always say that Christmas just wouldn't be Christmas without BCPE," said Quaintance.

There is plenty to do around the holidays in Fayetteville, but not too many adult-centric activities. That all changes this holiday season. The SantaLand Diaries by David Sedaris, runs Dec. 6, 7, 13 and 14. This is a holiday treat for grown-ups and will play during the weekend evenings of The Best Christmas Pageant Ever, only later. The play is a comedic look at Sedaris's tenure working as a Macy's SantaLand elf. Local actor, Michael Thrash carries this one man show.

"This is a really funny show that is a little racy, but definitely something worth seeing," said Quaintance. "We are running it later in the evening after the BCPE performances are over and the kids have all gone home."
Fiddler on the Roof won nine Tony Awards, including Best Musical. A production that covers a wide range of emotions, this production will include the efforts of award-winning director and choreographer Gary John LaRosa. With more than 25 years in the theatre, La Rosa has more than 200 productions under his belt, including performances in the 25th and 30th anniversary productions of Fiddler on the Roof on Broadway and national tour. He's been a part of more than two dozen productions of the play around the world.

"One of the things I really like about LaRosa is that he has a lot of experience with Fiddler on the Roof, but he is interested in producing it for the community we are in. This is one of the greatest musicals of all time and it has not been on the stage here since 1971. It's time," said Quaintance. "Sometimes people forget how deep and meaningful the story is, how change can be difficult, tradition is important and how hard it is to face the pressures to abandon deeply-held beliefs."

This classic musical based on Joseph Steins book and Sholem Aleichem's stories by special permission of Arnold Perl, opens on Jan. 23 and runs through Feb. 16.
August Wilson's The Piano Lesson opens March 6 and runs through March 23. This drama will be the main stage production of CFRT's 18th Annual Classic Theatre Series. More than 1,500 students from Cumberland County Schools will receive free tickets to see this show. This production is an important component in the CFRT's goal to bring stories that the entire community can appreciate to the stage.

In the past, this production was performed off site for students, but this year the CFRT has made it a part of the regular season as well. "As a nonprofit we have a responsibility to do good in the community and this show is the most important work we do all year," said Quaintance.

The CFRT staff met with the Cumberland County School System and coordinated this show with the 11th grade reading curriculum. All the 11th graders in CCS will read The Piano Lesson this year and will have a chance to see the play.

"We added it to the regular season not only because it is a great play written by one of the great African-American playwrights," said Quaintance, "but also because we hope that the students will see it and their parents will come see it too, and that they will be able to have an ongoing conversation at home."

April 17-May 4 don't miss John Buchanan's The 39 Steps. An Olivier Award Winner: Best Comedy and Drama Desk Award Winner: Unique Theatrical Experience, The 39 Steps mixes the suspense of a Hitchcock masterpiece with the quirky humor of Monty Python for a fast-paced who-dun-it that is sure to please, according to Quaintance. The script includes more than 150 characters and will be played by a cast of four performers. Nick Minas will direct.

The season comes to a close with the Rivershow - Return to the Forbidden Planet. The website describes this production as take one plot (Shakespeare's The Tempest), one B movie (Forbidden Planet) and for added flavor plunder the entire Shakespearean cannon for dialogue (the more pungent the plagiarism, the more piquant the final effect). Filled with favorites like "Wipeout," "Young Girl" and "Monster Mash," the show runs from May 15-25.

This is Quaintance's second full season as the Artistic Director at CFRT. Since his arrival in Fayetteville, ticket sales are up 40 percent and the theatre is in the enviable position of selling out shows on a regular basis.
"Some people tend to wait till the last minute to purchase their tickets and they have found themselves unable to attend," said Leslie Flom, of the theatre staff.
The best way to counter that situation is to purchase season tickets, which are also cheaper than box office prices.

"One of the things that consistently surprises people is how varied our program is," said Quaintance. "A lot of people think we just do musicals, but we are more than that ... we do dramas, comedies, you name it. Our goal is for the entire community to feel welcome and excited about what they will find here. Fayetteville is a diverse community and there are not too many places for everyone to come together. We want this to be one of the places where everyone can come together."

Find out more about CFRT and the upcoming season at www.cfrt.org.