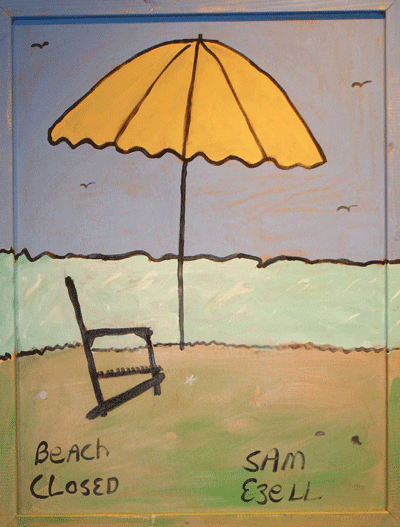 Unique Visions: the Gift of Folk Art at the Fayetteville-Cumberland County Arts Council is an invitational exhibit celebrating the self-taught artist. Planned as a prelude to the upcoming International Folk Festival, the artists in Unique Visions fall within the classical folk genre; several artists also fall into categories within the genre — visionary and outsider artists.
When viewing the paintings by folk artists Sam Ezell, Eddie Hayes, RavenFeather, and Theresa Gloster, it is easy to see how their works fit the classical definition of what folk art is — a style that is the result of the self-taught artist expressing themselves in ways that convey meaning and values within their culture. For visitors to the exhibit, an added dimension is the text panel next to the artist's work; the panel includes a quotation from each artist about their work and influences.
Eddie Hayes was raised in Atkinson, N.C. His personal story and history is re褀ected in the titles of his mixed media drawings "Church Social," "Tobacco Talk" and "Hog Killing." Hayes explained he was "raised by his grandparents and an uncle, and began helping out with farm chores at a very early age."
Hayes, a 2012 recipient of the Regional Artist Grant, said, "I have always loved drawing and painting, even as a child. Since I grew up on a farm I paint mostly from memories from a long time ago and sometimes from my dreams."
Hayes' memories are rendered in highly detailed drawings, mixed with watercolor, of special people and places in his lifetime.
Sam Ezell, an artist from Hillsborough, N.C., is also a classical folk artist. The two paintings, one of Duke's Mayonnaise and the other, a bag of Sugar Cane sugar, both reflect his southern roots.
Many of Ezell's paintings are created with small repeating shapes that move across his work creating rhythmic patterns. In contrast, other works are created by reducing his subjects to large shapes, devoid of detail.
Ezell's personal story is interesting.
"I became friends with Bernice Sims. Shortly after I met her, I asked her what I could do for her and she asked me to paint a picture for her. Well, I didn't paint, but I went ahead and painted a picture and gave it to her. Later she told me the painting sold and asked me to paint another one. I have been painting ever since and continue to sell a lot of work," he said.
The subject of Theresa Gloster's paintings is very different than Ezell and Hayes. Colorful, fanciful and filled with innocence, Gloster's paintings are filled with children at play. Inspiration for her paintings is her childhood memories and she calls herself "a memory artist" and "hopes her work will preserve the past."
Born in Filbert, W.V., Gloster's grandfather was a coal miner. Her grandmother raised her along with their 12 children. At age 47, Gloster, a hair dresser, started painting after watching an artist paint on TV; she said to herself, "I can do that."
The subjects of RavenFeather's paintings are everyday life — joyful. What is particularly distinct in the exhibit are her handmade dolls. Made from yarn and fabric, her dolls represent charming female personalities within the African-American community.
RavenFeather's interest in the arts evolved from, watching her father sketch cartoon characters.
"He inspired my sister and me with the love of art. I love it when someone tells me that my art reminds them of their childhood, or if it creates some other memory," she said.
Self taught is one key component of all the artists in the Unique Visions, whether they are a folk, visionary or outsider artist. The mixed-media work by William Hodges titled "Milky in the Yard Next Door" is a wonderfully crafted mixed media, a close up painting of a dog, the painting is wrapped in fencing!
Highly effective as an artist, Hodges said he was only 7 when he remembers seeing an artist sketching children in a park when he lived in New Jersey.
"After receiving the Young Artist of Trenton award in my elementary school, my dad made a special frame for it. Looking back, I realized I was inspired by an artist at the age of 7. Now, as an adult artist, my goal is to continue to touch the senses of people. I was inspired by the artist in the park on that warm summer day back in New Jersey."
Before becoming a fulltime artist, Peter Loose worked for the state park service at the Athens Sandy Creek Nature Center in Georgia. His works meet the criteria of a visionary folk artist and can be viewed as someone who has a strong belief in their vision and a strong impulse to reveal a belief that is often spiritual. Through his paintings, his love of animals is transferable — uplifting, colorful and whimsical. The subject of birds reflects his lifestyle since he and his wife live with a menagerie of animals — dogs, chickens, pigs, goats and an iguana.
He said, "I paint because it makes me happy. I paint because I love all the creatures of the earth. Painting can make you happy, too."
Rob Manchester, for me, also falls into the visionary folk-art genre. A veterinarian by profession, Manchester lives in Raleigh, N.C. The titles of Manchester's paintings are indicators as to what inspires his humorous and quirky works. "All Cooped Up" is a black and white stylized portrayal of an eccentric chicken in her coop. "Don't Eat the Queso (Cheese") is a fun, colorful painting of mice and mouse traps with cheese as bait.
Like, all the artists in Unique Visions, Manchester is a story teller.
"During meetings, I find myself sketching and doodling the same animal or people characters you see in my work. I became a veterinarian because I have a love of animals; so when I began to paint the
y were a likely subject for me."
The paintings of one artist, Roderick McClain from Durham, N.C., fall into the outsider folk-art category. Common characteristics of the outsider artist can be discovered in work that is more edgy then the classical folk or visionary; often unfinished in execution, but masterful in content.
McClain's paintings are created on discarded boards, often weathered. Coated in layers of thick gesso to craft a smooth painting surface in which to apply ink and pastel, he tells a story using thought provoking characters and text. McClain's explanation about his work is just as thought provoking as his work.
"I'm working on a novel, but painting is another way to tell a story. A phrase comes to mind and I become interested in what the characters would look like so I begin scribbling out the image. I feel as if the painting is a snap shot of a much larger story — there are always suggestions of other people in the conversation," he said.
There is one quilt maker in the exhibit — Portia Hawes. Sending a positive message through design and layout, Hawes stated, "As a child I was an oddball. I was obstinate. I didn't want to walk that straight path."
Her roots are deep in Warren County, where she lives in the same house in which she was raised. Proud of her heritage, her father was a mechanic and one of the first African-Americans in North Carolina to own a used car dealership. One of Hawes' great-grandfathers on her mother's side was born in slavery and rose to be a United States Congressman.
All of the artists in Unique Visions share personal insight into their history or their passion. Whether it is folk, visionary or outsider, all three styles are collectible genres in contemporary art; many of the works by these artists are already collected, they are represented in galleries and are part of museum collections.
An endearing and inspirational exhibit, Unique Visions: the Gift of Folk Art is open to the public until October 19. For hours of the Arts Council, call 910-323-1776 or visit the website at www.theartscouncil.com.
Photos: Unique Visions is on display at the Arts Council through Oct. 19.