Gasp!! The Arts Council of Fayetteville and Cumberland County is celebrating the festive late October season with a competition titled A Sense of Horror and a small solo exhibit by photography and film artist Joshua Yates. Opening during 4th Friday, the juried competition and Yates' exhibit is in the spirit of the macabre — weird, creative, campy, eerie and one very large hairy spider!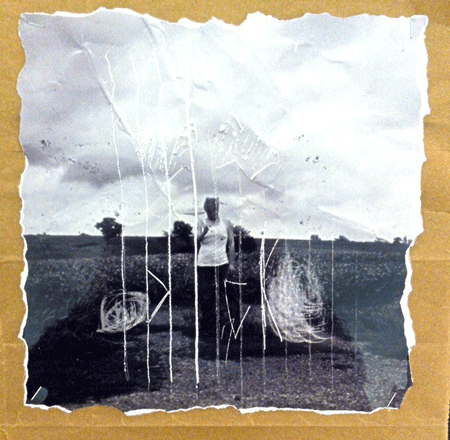 Yates, originally from Fayetteville, now living in Iowa while working on his master of fine arts, was invited to exhibit some of his photographs and one of his short films in conjunction with the A Sense of Horror competition. A perfect match for the theme of the competition, Yates's work is exquisite horror.
Yates is exhibiting six photographs; his small group of works is titled The Bags, Probably 1971. His collection includes individual family members eerily staged, paper bags over their heads; the photographic negative is scratched to create an element of time, perhaps a frozen moment from an old movie projector? After viewing Yates' six photographs, visitors are invited to sit down and watch his exquisitely haunting six-minute film.
No amateur here, Yates's film/video work and photography have been shared internationally in film festivals, photo publications and fine art exhibitions. Recent screening spaces include the Portland Underground Film Festival, the Indie Grits Film Festival and the Virginia Film Festival. His photo work will be published in a forthcoming book curated by Photographer's Forum Magazine. Last summer, Yates spent 10 days in Haiti photographing a feature-length documentary exploring the country's culture of resistance and thriving rural voodoo practices.
To understand the work of Joshua Yates, his artist statement gives us more insight into the why of his artistic process: "I am interested in recreating the emotions triggered and innumerable questions raised by once lost or hidden, but now found, objects. If we live on in what we leave behind, what do these resurfaced, but not necessarily welcomed, artifacts represent? The Bags, Probably 1971 is a visual manifestation of this curiosity."
The larger exhibit at the Arts Council was a call for art for A Sense of Horror. Mike Romagano, a fine art instructor at Fayetteville Technical Community College, was selected to jury the competition. After selecting 43 works for the exhibit, the exhibit ranges from highly skilled techniques to a relaxed play of patterns, abstraction and fun interpretations of skeletons, ghouls and ghost-like images.
Romagano has his definition of what horror is and what he was looking for to reflect that vision.
"I think the exhibit highlights the gamut of the eerie, surreal and the frightening. I selected works that best demonstrate something alien and remote, evidence gathered from murky, unknown corners. Horror is something that should not be and strikes at our rational understandings. It should leave an impression on our brains, and reverberate long after exposure. Works were also selected that demonstrated refined technique and cleverness of media application, as well as content, I thought fit the archetypical horror venues," he said.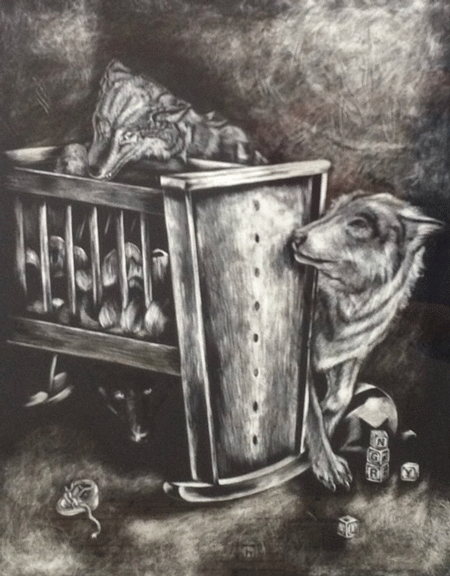 For her highly detailed scratchboard drawing, Ashley Thompson earned the Best in Show award for her work titled "Wolves and the Babe." Playful and yet a sinister scenario, two wolves are placed in an interior room searching an empty baby's crib. Viewers are left to determine their own ending for the narrative Thompson presents.
Charles Wiltse, Kevin Gregory and Dorota Quiroz all earned excellence awards for their entries. Wiltse for his large abstract painting titled "Red Biomorphic," Gregory for his color interpretation of a mad scientist titled "Mad Science" and Dorota Quiroz for her small ink drawing titled "A Nightmare."
A large spectrum of styles and subjects, I feel as if visitors to the exhibit will find some works they appreciate. For example, the digital photograph by Eddie Collins is exquisitely eerie and beautiful. In the work titled "She Still Dances," a strong directional light passes across the dance stage; a soft spotlight reveals the poised dancer is actually a ghoul — a stunning ghoul.
Eric Longley's print, "If One Lets Go," is also open to interpretation. Longley juxtaposes a silkscreened line drawing of a stylized heart muscle, the shape of a silhouetted figure with a target and three air-brushed black splats for viewers to deduce meaning.
There are lots of interpretations of stylized skulls and skeletons, but Stephen Heen's two watercolors are unusually eerie. Stylistically fresh in watercolor fashion, we peer down, what appears to be Hay Street; the Market House looms sinister against a blue sky. Each watercolor exudes something highly sensitive, something special and something foreboding.
Two exhibitions in the same venue and, as always, there is no charge; there is still time to see A Sense of Horror and The Bags, Probably 1971 since they will remain up until Nov. 16. If you need information on the exhibits and upcoming events, call the Arts Council at 910-323-1776 or visit the website www.theartscouncil.com.
Photos: Top right; The Bags, Probably 1971" is a work of art by former Fayetteville resident, Joshua Yates. Bottom left; "Wolves and Babes" by Ashley Thompson took the Best In Show Award.