Many years ago I saw an unusually beautiful work of art on one of the walls at the Arts Council of Fayetteville and Cumberland County. Upon closer examination the work was constructed of many small pieces of fabric, hundreds of pieces, held together against a transparent mesh of tulle; yet it looked like an Impressionist painting! Since that time I have gotten to know the artist, Martha Sisk, and became familiar with her journey as a local printmaker and fabric artist.
The public is invited to meet Sisk and see an exhibit of her work in The Works of Martha Sisk at Gallery 208, located at Up & Coming Weekly, 208 Rowan Street, on November 12, 2013 between the hours of 5:30 p.m. and 7 p.m. At 6:00 p.m. Sisk will be formally introduced and brie谀y talk about the exhibit and her work.
A public school teacher for exceptional children, in 1990, after making one quilt ten years earlier, Sisk decided to use the art of quilting to teach her math class in Robeson County about geometry. The students cut geometric shapes out of fabric, proportionately arranged and then students sewed them into twelve inch squares. Sisk later sewed all the squares into a large quilt and donated the quilt to the school for display. The creative teaching technique led to a published article in the Quilt Almanac magazine and a new interest in pursuing the art of quilting.
Soon after the geometry project, Sisk discovered a book titled The Art of Landscape Quilts and began creating scenes in fabric from a photograph. Using an appliqué technique, she joined fabrics together to create the illusion of the photograph. Although Sisk creates functional quilts, the in谀uence of the appliqué technique can still be seen in the artistic style of her creations today.
By 2004 Sisk purchased an expensive sewing machine to pursue traditional and experimental quilting techniques. Her talent for the art of the quilt was already acknowledged - she had received local awards and a Regional Artist Award in 2009. Sisk's work is owned and on display in the Children's Emergency Room at Cape Fear Valley Hospital and in the library at Fayetteville Technical Community College.
After retiring from teaching in the public schools, Sisk taught English at Fayetteville Technical Community College and decided to take a printmaking course at the college.
After one semester she began taking printmaking courses at Fayetteville State University and has continued to take printmaking at the university each semester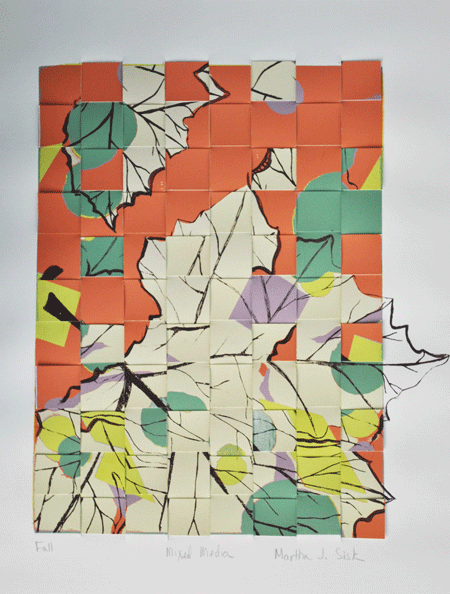 .Relief, intaglio and silk-screening printing techniques soon found their way into the art quilt. While other students were printing on paper, Sisk would bring in a piece of silk fabric to pass through the printing press; she began to regularly transfer the printing ink from the print matrix on cloth as well as paper.
A fascination with fabrics now included the variety of printmaking papers, all types of paper, to be thought about like the endless variations of fabric. After transferring her fine art print image on fabric, Sisk than applied the cutting and arranging of quilting to her prints – she cut the print on paper up into strips, then reassembled them by weaving the image to create an abstracted print.
By now, Sisk was a member of the Printmakers of North Carolina professional organization and was exhibiting her prints at 311 West Martin Street Gallery in Raleigh, North Carolina as well as local galleries and competitions. Regular visitors to local galleries would see a woven print by Sisk on display or an unusual art quilt – or an original print image integrated into the quilt.
More recently Sisk was invited to participate in an invitational exhibit at the Arts Council titled Local Craft Style in 2012 and won a placement award in the Fayetteville Technical Community College 4th Annual Competition in 2013.
I asked Sisk to talk about the relationship between quilting and printmaking; she said that was easy. "For quilting you block in sections, similar to the silk-screening process, an additive process. In a collagraph, you cut out textures, similar to the "art of the landscape quilt" technique and then, in printmaking, paste the cut-outs to the plate to print. In both mediums it's about shapes, textures, layering and experimenting with process and design. As well, in both mediums, I am able to explore subjects that I am particularly interested in: nature, particularly trees and leaves, and special themes."
Visitors to the opening of The Works of Martha Sisk will see a collection of works from the last decade - intaglio and silk-screened woven prints, as well as art quilts and traditional quilts. As always, the gallery is free and open to the public. If visitors can not attend the reception on Nov. 12, the exhibit will remain up through the month of December. Gallery hours are 9 a.m. to 5 p.m. Call 484-6200 for more information.
Photos: Local printmaker and quilter Martha Sisk will be featured at Up & Coming Weekly's Gallery 208. There will be an opening reception on Nov. 12 where the public can meet the artist.