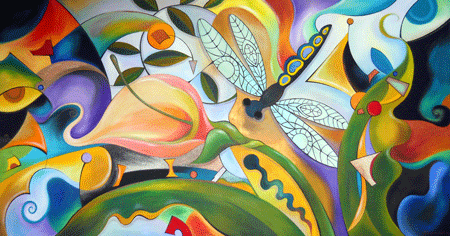 Local galleries are hosting exceptional exhibits in Fayetteville area. Most of the exhibits are up until the third weekend of each month, so there is plenty of time to visit the galleries during the month of February.
Cape Fear Studios on Maxwell Street opened exhibits with the paintings and sculpture by Barton Hatcher and a ceramic exhibit by Charles and Linda Riggs. Both exhibits are quite different and reflect the work of highly skilled artists whose bodies of work are skillful and deliberate in meaning and content.
When viewing the paintings by Barton Hatcher, nature is revealed as shapes — the limited modeling of forms — move across the picture plane in a whimsical way. Hatcher incorporates patterns, close-ups of birds, silhouettes of people in action, flowers and even parts of the human anatomy to reveal something carefree about nature and the human condition – a place where nature and human kind co-exist in accord.
In strong contrast, the ceramics of Charles and Linda Riggs are exquisitely dependent upon a minimal sculptural form and ceramic firing techniques to reveal effortless beauty. Appearing effortless is the result of a highly trained and experienced ceramic artist who knows how to create thin walled forms to support earthen stained surfaces — colors created by a pit firing technique.
Before you leave the Cape Fear Studios, be sure to view the results of their annual college art student competition at the back of the gallery. The Lois Ferrari Memorial Scholarship is a competition for interested art students from Methodist, Fayetteville State University and the University of North Carolina at Pembroke. The winner is awarded a large stipend for supplies and a one-person exhibit. This year, Fayetteville State University art student Eric Longley won the award for his prints.
A young and talented artist, his approach to printmaking techniques are rooted in a search for the expressive qualities of material and process. He shamelessly mixes printmaking mediums in an attempt to evoke a variety of messages and surfaces in the same print.
The Arts Council of Fayetteville/Cumberland County on Hay Street is hosting the exhibit titled The Pilgrim Age: a Lifetime of Collecting by Dr. James and Juanita Pilgrim. Noted collectors, the Pilgrims are sharing part of their personal collection, works by distinguished African-American artists William Tolliver, Jonathan Green and Paul Goodnight. The majority of the exhibit focuses on the works of Tolliver.
The Pilgrims, Fayetteville residents, have spent their life together collecting artworks and often developing close relationships with the artist whose work they were collecting. This was the case for knowing and collecting the work of William Tolliver. Juanita Pilgrim said she was attracted to Tolliver's work because of the mix of paint and colors. "He did not skimp on the paint and it's obvious he painted from the heart; Tolliver became a close friend of our family."
Tolliver's artistic career as a painter emerged in the 1980s; his brushy style of thick application of paint in an impasto style seems to have occurred after his earlier paintings — a cubist influence where many of the objects and people in his paintings were outlined with a strong black contour.
There are plenty more excellent exhibits opening in February in Fayetteville. Gallery 208 (Up and Coming Weekly) on 208 Rowan Street opens on Feb. 11, with the exhibit Paintings by Earl Gardner (opening reception Feb. 11 at 5:30 p.m.)It is free and open to the public.
The David McCune International Art Gallery at Methodist University will present the exhibition, PICASSO: 25 Years of Edition Ceramics from the Rosenbaum Collection from Feb. 13 to April 13, 2014. The opening night gala is from 6:30 to 8:30 p.m. on Feb. 13. The public is invited to attend.
Rosenthal Gallery on the campus of Fayetteville State University has opened Time, Space and Place: the Works of Leroy S. Robinson. The exhibit runs through Feb. 22.
Lastly, if you haven't already, make sure to visit a new gallery that opened in December, the Ellington White Contemporary Gallery on 113 Gillespie Street in downtown Fayetteville.
Photo: Granny's Garden by Barton Hatcher.