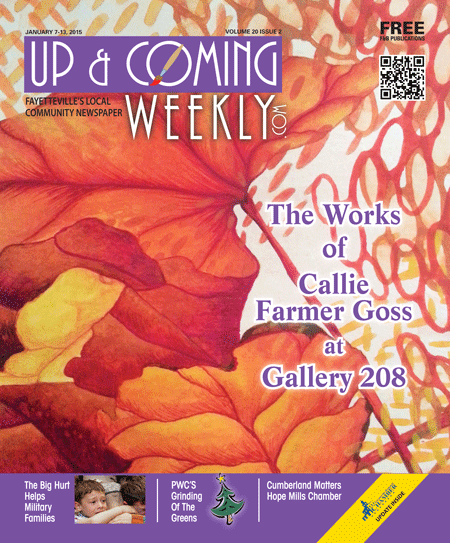 A Fresh Approach to the Art of the Print is an appropriate title for the new exhibit at Gallery 208 since artist Callie Farmer Goss uses traditional print making techniques as a platform to explore alternative methods. The result is an exquisitely delicate surface of patterns inspired by nature; depth is created by layers of transparent colors and the contrast of hard edge and softness.
Gallery 208 is excited to present an exhibit by an artist who has recently earned a Master of Fine Arts with an emphasis in print making before relocating into the region. A professional artist, Goss is excited about her solo exhibit at Gallery 208.
The exhibit is a mix of her newest works and works created during her graduate studies. Discussing the theme of the exhibit, Goss said, "Something that sets this body of work apart from past series is that this series also has a humanistic quality to it from the actual print making layers to the patterns having a 'man-made' quality. Combining various disciplines (painting and print making) and techniques on the paper matrix allowed for different ideas and artistic styles to come together as one."
Visitors to Gallery 208 will see ways in which the artist's earlier works incorporate the use of random patterns and a fluidity; while the patterns of the later work appear more intentional to create pictorial tension.
"By closely observing images in nature, new color palettes are revealed that are useful to represent the specific natural feeling I am expressing in my work," she explained. "In addition to color, the textures and patterns that can be seen in nature have influenced my web-like patterns."
Goss is exhibiting a few of her early works developed in a vertical scroll format — long pieces of paper hang like ancient tapestries to reveal a contemporary abstract environment and her personal response to nature. Goss noted she is constantly pulled to the organic and abstract within the world of nature and always intrigued by different shapes, forms, illusions and colors.
"I am pulled into the detail," she said.
Like other prints, the scrolls are monoprints (one-of-a-kind images) instead of traditional print making editions (multiples of the same image) and predominantly built upon a relief matrix. To create these works, the artist uses the relief technique as a unifier. In the relief process, a surface is carved (linoleum, wood or some other rigid material). Using an inked roller, the ink is passed over the carved surface, the recessed areas are ink free. The ink is then transferred from the surface onto paper using firm pressure by hand or a distinct type of press. Goss is able to incorporate painterly and one-of-a-kind techniques in her work by a mixed-media approach — often adding gouache, intaglio and silk-screening in combination with the relief.
Looking at her creative works, one is easily pulled into the details, but also the distinctive type of nature she has created, which are inspired by hiking and camping. Finding her inspiration in the time she spends outdoors, her work embodies the discovery of the biological.
"With my love and experience of the outdoors, I am able to see the growth of layers in nature, how nature layers itself to build and rebuild," she explained. "The growth of layers within the environment is similar to the layers of memories we have as human beings. I am able to find relationships within my own experiences and how various shapes, textures and colors are within the environment and how they trigger my own memories."
Seeing through the transparent colors in all of her images is germane to the aesthetics of Goss's work, while varying her approach in the ways she creates movement and rhythm. Some works evoke a sense of delicate forms floating from a soft breeze while other works are still delicate, but pictorial tension is created by a darker or hard-edge pattern holding the elusive in place. No matter what the composition or placement of the form(s), one never senses solitude or isolation, but rather a relationship between two or more entities.
Goss creates worlds within worlds. While looking at her prints, one can sense the bigger natural world we live in, but her work also evokes something in nature we have not yet discovered: She reveals it for us. It is as if we have discovered the beauty of a complex system as well as a type of nature we might find in a new universe, or our own if we would just look more closely.
As always, the public is invited to Gallery 208 to attend the opening and artist reception. Callie Farmer Goss: A Fresh Approach to the Art of the Print opens on Jan. 13 at 5 p.m. The gallery is located at 208 Rowan Street in the corporate offices of Up and Coming Weekly. The artist will speak at 6 p.m.
The exhibit will remain open until the end of February and gallery visitation hours are regular business hours: Monday through Friday, 9 a.m. to 5 p.m.
Photo: Gallery 208 hosts the opening of an exhibit by artist Callie Farmer Goss on Jan. 13 from 5-7 p.m.