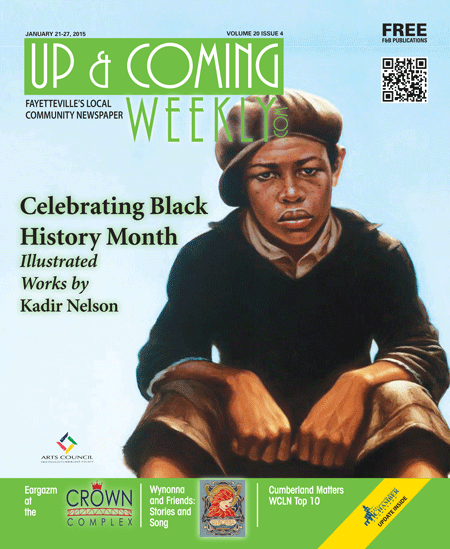 People may not be familiar with the name Kadir Nelson, but chances are they are familiar with his work. He worked as a concept artist for the movies Amistad and Spirit: Stallion of the Cimarron. He has created artworks for Sports Illustrated, Coca Cola, The U.S. Postal Service, Major League Baseball and The U.S. House of Representatives to name a few.
In 2011, Nelson first displayed his work in Fayetteville in the exhibit We Are the Ship: The Story of Negro League Baseball. The illustrations were from Nelson's picture book of the same name that was published in 2008 by Disney/Hyperion. His current exhibit, Words and Pictures: Illustrated Works by Kadir Nelson is set to open at the Arts Council during 4th Friday festivities on Jan. 23.
Words and Pictures: Illustrated Works by Kadir Nelson is composed of illustrations by Nelson that have appeared in six books, four of which he authored. The books are: I Have a Dream (the illustrated version of Dr. Martin Luther King's speech); HEART AND SOUL: The Story of America and African Americans; A Nation's Hope (the story of boxing legend Joe Louis); Nelson Mandela; Baby Bear; and Coretta Scott).
Marketing Director of the Arts Council of Fayetteville/Cumberland County Mary Kinney is excited about the message this exhibit sends.
"We knew when Kadir's exhibit, We Are the Ship: The Story of Negro League Baseball was here in 2011 that we wanted to feature his work again," said Kinney. "Not only is he a wonderful artist, but his work really speaks to the tenacity of the human spirit. His works offer an opportunity for learning about history, about people, about life and change and overcoming adversity."
There is additional programming throughout the month that ties in with this exhibit. Nelson will be in attendance at the opening of the exhibit. There will be a limited number of books featuring Nelson's work available for purchase. He will sign books and give autographs.
On Jan. 31, don't miss the reading and book signing by Carole Boston Weatherford. Weatherford is a professor at Fayetteville State University. She collaborated with Nelson on the book Moses. This work earned Nelson his first Caldecott Honor. The event is free to the public and runs from 11 a.m. to 12:30 p.m at the Arts Council.
A children's workshop is scheduled for Feb. 14. The workshop features children's book author and illustrator Cammeron Batanides. Children will view Nelson's exhibit Words and Pictures: Illustrated Works by Kadir Nelson and read some of his books as well as Batanides' book Meet Panda, which is about a dog who teaches lessons about love and acceptance. After reading about Panda, the children will write and illustrate a book of their own to take home. The workshop is free. Registration is required. There are two sessions. Children 5-9-years-old are scheduled from 10 a.m. until noon. From 1-3 p.m. 10-14-year-olds are welcome. The workshop takes place at the Arts Council. Call 323-1776 or email admin@theartscouncil.com to register.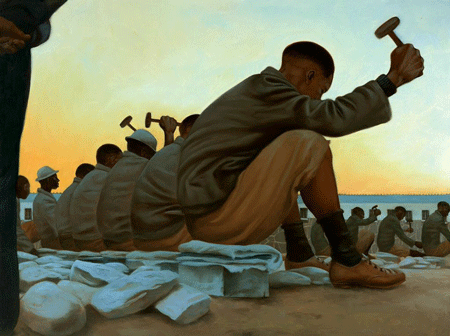 While downtown, don't miss some of the other 4th Friday events. Cape Fear Studios and Gallery is located at 148 Maxwell St. Within the unassuming brick building resides an artistic cornocopia of inspired and inspiring art. Works by member artists who a juried in are always on display. There are also rotating exhibits of artwork from guest artists. Coinciding with 4th Friday, Cape Fear Studios and Gallery debuts an exhibit in honor of Black History Month that focuses on the amazing wooden pieces created by Charles Farrar using his lathe. Farrar has a special love for working with found wood, and with the environment in mind, he does not harvest any living trees for his artwork. Woodcarving and turning have ancient roots in Africa. Sub-Saharan Africans were masters of carving and Egyptians were the first to master the lathe. This exhibit both honors the history of this craft and explores its modern beauty. For more information, visit www.capefearstudious.com or call 433-2986. The exhibit opens with a reception at 6 p.m. on Jan. 23 and runs through Feb. 23.
Fascinate-U is a hands-on museum that is dedicated to promoting education, growth and imagination in children. They have many exhibits that consist of miniature versions of common places found around town. Kids can explore these areas, role-play and learn about the world around them in a fun and safe way. On Jan. 23, from 7 p.m. until 9 p.m. admission is free. Children will have the opportunity to creat a free snowman craft. The museum is located at 116 Green St. For more information, visitwww.fascinate-u.com or call 829-9171.
Visit The Fayetteville Area Transportation and Local History Museum to learn more about local history or check out downtown businesses that stay open late and offer everything from entertainment to shopping and eating discounts.
Find out more about 4th Friday at www.theartscouncil.com.
Photo: right; The Arts Council celebrates Black History Month with the exhibit Words and Pictures: Illustrated Works by Kadir Nelson. set to open at the Arts Council at 4th Friday on Jan. 23.
Cover photo credit: Kadir Nelson.