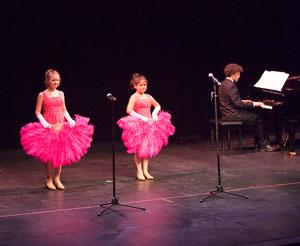 Can you sing, dance or play an instrument? Are you in elementary, middle or high school? Then get ready to showcase your talent because the Fayetteville Kiwanis Club presents its 64th annual Talent Night Showcase on Friday, June 12, at 7 p.m. at the Cape Fear Regional Theatre. Auditions are all day on Saturday, June 6, starting at 8:30 a.m., at the Honeycutt Recreation Center.
There are so many talented youth in Fayetteville and this is the perfect opportunity for them to get out there and shine. The showcase event has been a platform for great things to happen for some of the contestants. Some of the past winners of the Kiwanis Talent Night have gone on to play music in some of the most renowned orchestras in the country like the Boston Philharmonic. There have been dancers that have gone on to national dance and ballet companies and some of the winners are now performing on Broadway.
"We are currently out promoting the auditions for all Cumberland County students in preschool through 12th grade, and we will probably audition 200-300 children for this event," said Bill Bowman, production chairman of the Kiwanis Talent Night Showcase. "Any act will qualify such as singers, dancers, musicians, piano players and flute players."
Bowman added that when you take the best talent and put them all together it makes a real nice evening at the Cape Fear Regional Theatre. It offers the children a chance to showcase their talents and it offers the community a night of quality entertainment, as well as helping make a difference for children in the community —and best of all, it is fun.
The categories are preschool through 2nd grade; 3rd through 5th grade; 6th through 8th grade and 9th through 12th grade. Six contestants are chosen from the audition to compete at the Cape Fear Regional Theatre on June 12. The prizes are $2,000 in cash, trophies and scholarships. There are 1st, 2nd and 3rd place winners who will receive trophies and a cash prize. Proceeds are used to benefit 15 local Kiwanis projects for children.
"We will award scholarships to the top in each category," said Bowman. "We will have one for strings, voice, piano and band."
Bowman added that winning contestants will receive $150 and can use the money to attend any camp of their choice.
"We have been doing this event for 64 years and it is quite a show," said Bowman. "The talent that we are going to showcase that Friday night is remarkable and it will be a fun evening."
Kiwanis is an international organization with clubs in more than 80 countries. Kiwanis clubs work toward making the world better by serving children; one child and one community at a time. Kiwanis seeks to give every child a bright future. Tickets are $7.
Applications can be found at any Wendy's restaurant, at the school or online. For more information or to register for the event, visit
www.fayettevillekiwanis.org/talent or call Bill Bowman at
391-3859.