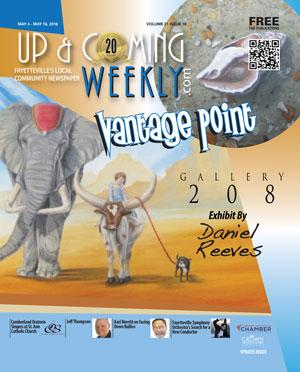 Artist Daniel Reeves is inspired by and appreciates the "nature and the patterns of organic beauty." His high skill level in painting is evident. The paintings in his exhibit at Gallery 208, Vantage Point: the Paintings of Daniel Reeves, speak more to what the artist excludes in his artist statement — an experience of entertaining possibilities!
The artist is modest. He stated, "I was born and raised in the foothills of rural North Carolina. I believe beauty and inspiration can be found in any scene. I appreciate the patterns and organic beauty found in the natural settings I explored as a kid and feel the same connection with manmade objects such as buildings or an old rusting piece of metal. I also noticed this interest as a child when watching my dad take an engine apart … the precision and shapes of the engine's interior where inspiring."
What Reeves does not say about his work is what the theorist John Dewey clearly refers to in his writing about aesthetics and can be said of Reeves' painting. "Art is an aesthetic quality that rounds out an experience into completeness and unity as emotional … emotions that do not necessarily reference joy or hope or fear … emotions are qualities, when significant, of a complex experience that moves and changes."
Reeves' work moves us with his wonderful sense of humor. In the painting titled "A Loving Family," a young child happily rides a Texas Longhorn bull in a barren landscape of yellow ochre and cadmium yellow next to a joyful elephant — her little dog follows along! Joyfulness exudes from his well-crafted control of pigment, skill level and what the painting symbolizes.
Whether investigating a more abstract image or the distinctly representational, paintings by Reeves unify the relationship of making with an aesthetic experience that we can enjoy. "A Loving Family," like other works, is an expression of a feeling, a symptom of the artist's state of mind.
In all of his paintings Reeves has a system of symbols to convey the concept of play — always taking the time needed to develop his imagery and paint details. In the large painting titled Beautiful Demention the artist is depicting a night scene deep in a forest. Fanciful, curious creatures and loving animals surround the child by firelight to evoke a special place of safety and discovery.
In several of the paintings in the exhibit, Reeves is less narrative and becomes even more symbolic through abstraction. In the painting titled "Needle in a Haystack," the artist has painted a close-up of a seashell on the shore surrounded by the texture of broken shells. Visitors to the gallery will readily see how the title of the work reflects the artist's sense of humor.
Inspired by the realistic forms of Caravaggio, Gustave Courbet and Edward Hopper, Reeves stated he has also been inspired by "the color and fantastic imagination of 20th century science fiction art."
His knowledge of art history, love of the arts and skill level are shared every day with his students at Bell Hefner Element School in Fayetteville, North Carolina.
In his customary positive manner Reeves shared the following: "Teaching art has been rewarding. My students' ideas surprise and impress me. They remind me there is an infinite number of possibilities when creating an artwork." (It is not surprising he was awarded Teacher of the Year at Bill Hefner Elementary for the 2014-2015 school year.)
Reeves earned an Associate Degree in Art from Wilkes Community College, a Bachelor of Fine Art from East Carolina University, and a Master's Degree in Art Education from UNC Pembroke.
Not only an art teacher, but also an exhibiting artist, Reeves was recently awarded 3rd place at the Arts Council of Fayetteville recent competition titled Once Upon A Time: Fairy Tales, Fables and Myths. He participated in the Cumberland County Art Teachers 3rd Annual Juried Competition at the Ellington-White Contemporary Gallery in Fayetteville, North Carolina in 2016.
His exhibitions include, but are not limited to the KD Morris Art Gallery group invitational in Holden Beach, North Carolina and The Paul Hartley Legacy Exhibition in Lee Hansley Gallery in Raleigh, North Carolina.
Gallery 208 invites the public to attend the reception for Vantage Point: the Paintings of Daniel Reeves on Tuesday, May 10, 2016 between 5:30 - 7 p.m. The artist will talk about his work at 6 p.m. The exhibition and artist receptions at Gallery 208 are free to the public.
Vantage Point: the Paintings of Daniel Reeves will remain up at Gallery 208 until late June 2016. Located at Up and Coming Weekly, 208 Rowan Street, the gallery hours are 9 a.m. – 5 p.m., Monday through Friday. For information call 484-6200.