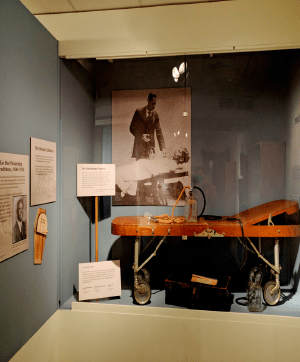 There is a wonderful new growth at the Museum of the Cape Fear. The historical complex is comprised of Arsenal Park, the 1897 Poe House and the Museum. These three historical sites have exhibits that explore the local history in engaging and interactive way.
The newest addition to the complex is an exhibit in the museum called Parlor to Parlor. "People should expect to see an in-depth look at funeral traditions and practices in the Cape Fear region. This includes some unsettling images and artifacts for some people, such a child's coffin with a window opening for viewing the body," Heidi Bleazey the museum specialist explained. Parlor to Parlor explores a cultural aspect of history that we don't often see in permanent exhibits. It fits into the overall story of the Museum of the Cape Fear because it specifically looks at funeral practices in our region, using photographs and artifacts from the area."
Death has been a constant in human history, but the way that it is handled has changed and evolved through years and cultures. "I think the most surprising tradition/information in the exhibit is the early embalming table and equipment," Bleazey said. "Embalming started during the Civil War in an effort to preserve soldiers' bodies so that they could be returned to their families for burial. Another somewhat 'creepy' tradition is the hair jewelry and wreaths. Most people today are squeamish about using hair from a deceased loved one in a crafty display or wearing it as a piece of jewelry."
One major difference was the significance of the parlor, hence the name of the exhibit. "The concept of the funeral has always been the same, it was a way to pay your respects to the dead and the family. Funerals were conducted by the family minister, but they took place in the family home parlor. The body was dressed and prepared for viewing and burial by the family rather than funeral home staff. Another big difference was the ritual of mourning, especially the dress code. Widows were expected to wear mourning attire for two and a half years." Bleazey said.
In many ways, the funeral traditions evolve because the society changes. Looking at how people handle death can show how they lived life as well. "I think when we look at funeral practices from the past, it becomes evident that society was much more comfortable with death and the rituals surrounding it than we are today. It would seem very odd to most people if a family were to lay out a loved one's body in their own living room today," Bleazey says, "People died much earlier and from a variety of diseases and causes that are preventable today, making death a regular occurrence for people in the late 19th and early 20th centuries. Today we find it shocking and deeply upsetting if a young child passes away or even if an adult passes away before a ripe old age."
For more information visit http://museumofthecapefear.ncdcr.gov/