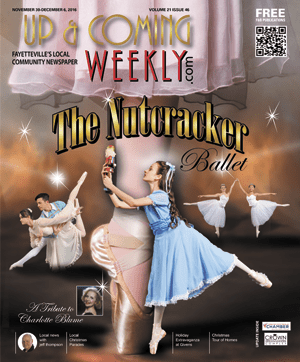 For many families, the Christmas season is not complete without attending a performance of the North Carolina State Ballet's The Nutcracker. Without fail, for 40 years, Charlotte Blume produced the show — and to exacting standards, making each performance a joy for the audience and a point of well-deserved pride for the performers. Blume died this past spring, but her legacy lives on. The curtain rises at 3 p.m. on Dec. 10 and 11 at the Crown for this year's production of The Nutcracker.
Dina Lewis, vice president of the North Carolina State Ballet, has watched countless dancers (including her own daughters) rise through the ranks at the Charlotte Blume School of Dance. She watched Blume train the dancers and work them to near exhaustion. She has seen the students push through mental and physical barriers under Blume's tutelage to achieve more than they ever thought they could onstage and in life. While Blume accepted nothing but perfection, her love for her students and her passion for ballet inspired many. When Blume fell ill, there was never any question about the future of The Nutcracker in Fayetteville.
"Even though our matriarch of our company has passed, it was her last wish that the show must go on," said Lewis. "Those were her own words, and we are continuing as she wished. This production is a tribute to Miss Blume and all she gave to this community and to the ballet world. Before she passed, she left a long list of expectations and how she wanted things to go. Now, we are all trying to fulfill her wishes. She was a remarkable woman and her students are determined to honor her memory with a performance that would make her proud."
While audiences come to enjoy a couple of hours of ballet, the dancers have trained for months. "The tryouts were in August and we started training in September," said Lewis. "It is the same level of performance as previous years." The girls are excited, but being the first performance since Miss Blume passed, it will be a struggle in some ways, too. We will have a private tribute onstage, though. There is always a portrait above the fireplace on stage. We are hanging a portrait of Miss Blume over the mantel. It is one way to remind the girls that even though she is not here, she is still here with them and watching them."
For many of her students, Blume was an inspiration. She was the adult who invested in them and held them to a higher standard than anyone else. She was the person they wanted to impress. "Charlotte was awesome. You can tell the girls miss her," said Lewis. "I think the first performance will be tough. She was rigid and only accepted the best. She was a tough instructor. That is how they learned. And she always performed with them. That will be the other part of the link. We will have hidden things in each set for the girls, so they will know she is there. It is very bittersweet, but we are excited to do it … for her."
There are two casts for the show. Ella Lewis and Marissa Morris play grown Clara. Sophia Lewis and Kendal Draughon are cast as young Clara. Tiffany Alexander performs as the Sugar Plum for the student show with Alyssa Pilger from the Carolina Ballet performing the part for other showings. Daniel Rivera dances as the Cavalier along with ballet professional Oliver Beres. Sarah Middleton and Emmalee Smith share the role of Snow Queen and Andrea Flores-Morales and Hannah Reeder play the Snow Princess.
The Nutcracker Ballet is based on the story The Nutcracker and the Mouse King, which was written in 1816 by E.T.A. Hoffman. In 1892 Russian composer Pyotr Ilyich Tchaikovsky and Marius Petipa and Lev Ivanov turned it into a ballet.
The story opens at the Stahlbaum house on Christmas Eve. Marie's godfather, Herr Drosselmeyer, brings her a beautiful nutcracker. Clara falls asleep thinking about her precious nutcracker. The toys around the Christmas tree come to life and Clara has an amazing adventure filled with toy soldiers who battle an army of mice, a journey to the Land of Snow with dancing snowflakes and an enchanted forest, a visit to the land of sweets where the Sugar Plum Fairy resides.
For four decades, Blume partnered with the N.C. State Ballet to bring this holiday tradition to Fayetteville. Her standards were high, and her love of ballet and commitment to her students were unwavering. Now, in a tribute to their beloved teacher and mentor, the Charlotte Blume School of Dance and N.C. State Ballet bring this production to the community that has supported them for so long. "She was larger than life," said Lewis. "I don't think we realized her impact on her kids … on us until she left us. I still expect to turn the corner and see her."
Performances are Saturday, Dec. 10 and Sunday, Dec. 11. The curtain rises at 3 p.m. Tickets range from $7-$20 and are available at http://www.crowncomplexnc.com/events/detail/nc-state-ballet-the-nutcracker