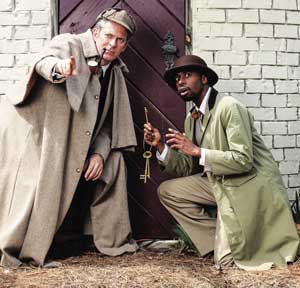 Baskerville: A Sherlock Holmes Mystery, showing at Cape Fear Regional Theatre through April 25, is playwright Ken Ludwig's take on Sir Arthur Conan Doyle's beloved 1902 novel The Hound of the Baskervilles. The show, carried by CFRT veteran Ken Griggs as Holmes and New York-based Harron Atkins as Watson, runs on playful, imaginative and smart storytelling.
Griggs and Atkins are supported by James Beaman, Luke LaMontagne and Molly Malone, who between the three of them comprise the rest of the cast — they each play at least three different characters throughout the show.
Director Sam French said that for Baskerville, he began working with his artistic team even earlier than he normally would. That team includes Scenic Designer Lucy Pope and Costume Designer Lizzie Donelan. French said he loves Ken Ludwig's approach in the script. "It takes a classic story that's meant to be read and has been designed to … only use the reader's imagination, and now invites the audience's imagination and the creative team's imagination," he said.
The creative team took that invitation wholeheartedly and created a world that urges audience members to follow suit. Under their vision, the actors create trains, horse carriages and even entire buildings out of almost nothing. Delicate paper-cut silhouettes whimsically dance across the background. The fourth wall is never broken because it never really gets erected. Though I initially resisted, I couldn't help but be pulled into world-building with them — the delight and inventive silliness and of it all was irresistible.
The moment that really got me was this: Holmes and Watson are onstage, engaged in heated dialog as they try to figure out their next move. Suddenly, from the shadows stage right, a coil of thick rope is thrown to Holmes. As he continues to talk, he passes one end of the rope to Watson. "I know!" he suddenly cries. "We'll go to the (office)!" He and Watson have created the outline of a door frame with the rope as he says this, and, bursting with resolution and dignity, they step under the rope and into the "office."
But not everything in Baskerville is created with only imagination. I was impressed with the primary set piece, a sloping, zig-zagging ramp, and the way it believably transformed with only context and perhaps a prop here or there added or subtracted. Scenic Designer Pope and Scenic Artist David Rawlins did a fantastic job.
Structure aside, supporting cast members Beaman, LaMontagne and Malone are extremely likeable and often hilarious in all their iterations. Lighting Designer Aaron Porter deserves mention, too, as his artful decisions imbued the whole thing with a sense of beauty and warmth.
Maybe you have to be there to understand the glory of that scene I described with the rope. And maybe that's the point. I'm a firm believer that if it doesn't make you say, "You've got to see it in person!" it probably isn't worth seeing at all. Baskerville absolutely passes this test.
Tickets to see Baskerville at CFRT cost $15-$25 and can be purchased by visiting www.cfrt.org or calling 910-323- 4233. Show times fall at 7:30 p.m. or 2 p.m. depending on the day. Baskerville runs through April 25.