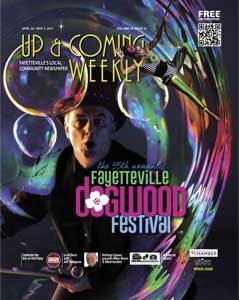 Every spring Fayetteville breaks out into a big weekend-long party that fills Festival Park and several blocks of Downtown Fayetteville with music, food, rides, shows, activities, art and more. It's been that way for decades. And for the most part it is an event run by volunteers. Volunteers who like to have fun! This year, the Fayetteville Dogwood Festival runs April 28-30.
The festival kicks off Friday, April 28 at 5 p.m. with the Bloom and Boom party sponsored by H&H Homes. The evening's entertainment features Brittany McLamb, LANCO and Parmalee. The opening ceremony is at 5:30 p.m. Music starts at 6 p.m. with Britanny McLamb onstage at the Festival Park CenturyLink Stage.
A Salemburg, North Carolina, native, Britanny McLamb grew up listening to gospel, bluegrass and country music. As a youngster, she sang in choir at her church and performed in local talent shows and pageants. After high school, she performed on television shows such as Arthur Smith's Carolina Calling and Jimmy Snow's Grand Ole Gospel Time. She studied at East Carolina University, receiving a bachelor's degree in Social Work.
From there, she headed to Nashville to chase her dream of becoming a star. McLamb released her first EP on iTunes in 2013. It included "Summer Rain" as well as songs like "Back from Your Goodbye" and "Mr. Right." Several singles later, "I Like Where This Is Going" was released April 2016, which McLamb penned herself along with band member Phillip Howard and Lauren McLamb.
LANCO takes the stage at 7:30 p.m. Formed in 2013, LANCO released their EP in 2015 and quickly followed with Extended Play in April 2016.
The band's website explains that Extended Play contains "three of the same songs as their debut, exchanging "High" for newer track and lead single "Long Live Tonight," a pop-fused country song with a Kings of Leon undercurrent.
Their song "American Love Story" was also featured as the theme for the Netflix series The Ranch. The band is known for its country feel with a touch of classic rock and blues influence.
At 9 p.m., kick back with Parmalee. The North Carolina natives earned high praises for their first album Feels Like Carolina. In 2014, the band was a semifinalist for the Academy of Country Music's "New Artist of the Year" Award and was nominated for the 2014 Teen Choice Award "Choice County Group." The group's latest hit "Close Your Eyes" was in the Country Radio top three. After touring with Brad Paisley on his "Country Nation Tour," Parmalee's new single, "Already Callin' You Mine," is currently in the Top 30 at Country Radio. Rooted in bluegrass, traditional country music, southern rock and blues, the band members grew up listening to and eventually playing alongside their families. Eventually, they made their way to Nashville where they lived and worked out of their RV in the parking lot of the Comfort Inn on the legendary Demonbreun Street.
Friday's festivities conclude with a firework show immediately following the Parmalee concert.
Saturday and Sunday are packed with things to do as well, including carnival games, rides, art exhibits and more. This year's festival features several performance venues as well. The Cape Fear Music Center Stage has performers lined up from noon to 6:30 p.m. Artists include more than 45 performers ranging in age from 7 to 55. Special performers include KasCie Page, Clairice and The Combustibles, Borderland Band, Rivermist and Upscale-N-Casual.
The Hay Street Stage features local bands from noon to 3 p.m. on Saturday. At 3:30 p.m. Earth, Wind & Fire Tribute will perform until 5 p.m. On Sunday featured performers include Fayetteville Jazz Orchestra, The Fayetteville State University Jazz Express and Reggie Codrington. Check out the wine garden near the stage for refreshments.
The parking lot beside Hay Street United Methodist church is the performance area that showcases dance troupes. Performers include:
Saturday
12:00 Little Gym Jets
12:15 Dazzling Dolls Pom Squad
12:30 Shimmy Mob
1:00 Elevo Dynamics
1:30 Shadows of the Fire
2:15 Audience Participation
2:30 World Dance
3:00 Aloha Ka'naka O'Hula Halua
3:45 J's US Taekwondo
4:15 Shadows of the Fire
5:00 Audience Participation
5:15 Aloha Ka'naka O'hula Halua
Sunday
12:00 LS Music & Arts Studio
12:15 Yvette's Dance academy
12:30 Shimmy Mob
1:00 Dashawn Byron
1:30 Shadows of the Fire
2:15 Audience Participation
2:30 World Dance
3:00 Aloha Ka'naka O'Hula Halua
3:45 J's US Taekwondo
4:15 Shadows of the Fire
5:00 Audience Participation
5:15 Aloha Ka'naka O'hula Halua
Saturday is a rockin' good time in Festival Park with a focus on 80s and hard rock entertainment. Violet Smoke is set to perform at 1 p.m., followed by Fourth Hour
at 3 p.m.
At 5 p.m., acoustic band Wood & Steele opens for Winger, who takes the stage at 7 p.m. Wood & Steele's repertoire is an inclusive one, ranging from The Beatles to Pink Floyd to STP or Johnny Cash. Winger is a hard rock band with roots that date back to 1987. The group is still going strong with recent hits "IV," "Karma" and "Better Days Comin'."
Winger has been on Billboard's Top 100 and in 2016, Grammy nominee Kip Winger hit #1 on Billboard and iTunes charts with his debut classical music album Conversations with Nijinsky.
At 9 p.m. Skid Row takes the stage. Skid Row is a rock band with titles that include "Youth Gone Wild," "I Remember You," "18 and Life," "We Are the Damned," "Monkey Business" and "Let's Go." The band has toured with KISS and has maintained a strong fan base.
Sunday, blues and soul performer DieDra will grace the CenturyLink Stage at 1:30 p.m. She's been called the "Blues Diva" and "The Alabama Blues Queen." Her album Overcoming Hurdles was nominated for several awards and her song "Hip Swingin' Blues" went as high as number five on Roadhouse Blues Charts and topped all Beach Music Charts that year.
At 3 p.m., the Duck Derby Race releases thousands of ducks into Cross Creek in a race to raise funds for local schools and nonprofits.
At 4:30 p.m., fusion rock band Lotus Sun performs. The band is a local favorite and a winner of Best of Fayetteville's "Best Local Band" award. Lotus Sun is a local favorite at music venues like Fayetteville After Five as well as other festivals.
All the events are free. Tickets are available for $25 for prime seating at the CenturyLink stage concerts. Local artists and vendors will have items available to purchase, as will food vendors. Tickets for midway rides are for sale and can be purchased at the Dogwood Festival.
Parking
Parking for those with disabilites will be designated in the Hay Street United Methodist Church Parking lot and the Bank of America Parking Lots on Ray Avenue. Availability is first come first served.
Downtown parking is available. Suggested areas include:
•New Parking Deck on Franklin Street, FREE weeknights and weekends
•Cumberland County Courthouse parking lots
•Paid parking in various Downtown locations
Event Rules
•No Coolers
•No Pets (except service animals)
•No Weapons of any kind
•No Bikes, Rollerblades or Skateboards
•No Drones/Aerial Toys or Equipment
•No Inappropriate language or behavior
•Zero tolerance for bad behavior
Midway Hours (Carnival, Behind AIT)
Friday Noon - 10 p.m. - All you can ride wristbands $25.00
Saturday Noon - 8 p.m. Tickets only
Sunday Noon - 6 p.m. Tickets only
Find out more at http://www.faydogwoodfestival.com.