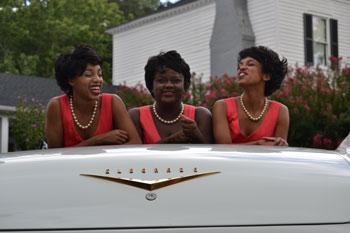 The Cape Fear Regional Theater knows how to kick off a season — music, dancing, singing and the story of a dream. A few dreams, actually. Effie, Deena and Lorrell are The Dreams, a trio of singers aspiring for fame in the Motown era. The women find that success requires compromise and may cost them their friendship.
With love lost and found along the way and some friendships broken and mended, "Dreamgirls" is a roller coaster of emotion that the talented cast handles beautifully. CFRT Artistic Director Mary Catherine Burke said the entire cast has a passion for performing. You won't doubt that when you see the show.
The cast includes leads Nattalyee Randall as Effie White, Diamond Essence White as Deena Jones, and Stephanie Rocio as Lorrell Robinson. Kwame Remy is Jimmy "Thunder" Early, Marktavious Patton is Curtis Taylor, Jr., and Darius Jordan Lee is C.C. White. All but Patton (who played the Tin Man in last season's "The Wiz") are making their CFRT debut with "Dreamgirls."
Randall brought the audience to a standing ovation with her powerful performance of "And I'm Telling You I'm Not Going." Her raw emotion made me feel every bit of sadness, disappointment and anger the character was feeling. Randall's energy was evident and definitely a highlight of the show. But it was her performance of "I Am Changing" later in the show that really displayed her talent and range. As frenzied and raw as the former song was, the latter was balanced and calm, yet gripping.
Another musical treat is when Patton, Lee and Remy lead the company in "Steppin' to the Bad Side." The performance, early in the show, lets us know that we are in for a talented range of vocals and fun dance moves.
Director Suzanne Agins brings the music, emotion, costumes and dance together with motion. The constant motion of the actors and props brings the stage alive with energy and excitement. With a live band onstage throughout the show, it feels like we are getting a peek backstage for the musical numbers. Although much of the story is about performing onstage, it still felt very intimate and personal.
Of special note is the work of Lighting Designer Maranda DeBusk. It happened before I realized it, but the lighting itself became a supporting character, adding not only colors and hues, but changing tone and emotion as the performers sang and danced.
"Dreamgirls" book and lyrics are by Tom Eyen, and the music is by Henry Krieger. The show is choreographed by Randy A. Davis.
"Dreamgirls" runs through Oct. 8, so get your tickets now because this is a show you don't want to miss. For ticket information, call the box office at (910) 323-4233 or visit www.cfrt.org.