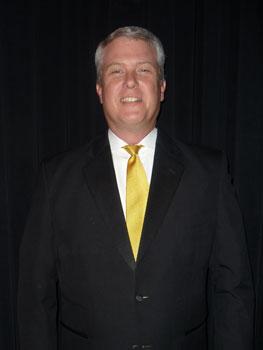 As the Cumberland Oratorio Singers look to open the 2017-18 season, there is a new director at the helm. Jason Britt accepted the position after devoting his youth to music and spending 23 years teaching and performing choral music.
Growing up in Fayetteville, Britt played the cello at Eastover Elementary School. He was a member of the Cumberland County Youth Orchestra in seventh and eighth grades; he also played first chair cello. In high school, he continued singing and playing in school music programs. Britt graduated from Methodist College in 1993 with a degree in music and a concentration in music education. In 2013, he received his Masters of Music Education degree from East Carolina University. He's taught in the Cumberland County Schools system and served as the director of music at First Baptist Church.
On Friday, Oct. 20, the Cumberland Oratorio Singers' season opens with "We Sing to Relate" at Holy Trinity Episcopal Church.
"One of the things candidates were asked to do as part of the interview process is to plan a season," Britt said. "The current season is what I submitted as part of my interview."
The first concert showcases the works of American composers. At this concert, Britt hopes to bring the community together in a spirit of unity. "We have just been through an election cycle, and we are pretty divided as a nation," he said. "But we cannot deny that we are all Americans. We will perform works many people will recognize … pieces by Copeland, Whitaker and Randall Thompson."
The second concert is Saturday, Dec. 16, at First Baptist Church. It is titled "We Sing to Remember."
"We sing to remember and for nostalgia," Britt said. "One of the things about Christmas is we think about times gone by. The performance is dedicated to that. This is also when we do Handel's 'Messiah Sing.' That has been a mainstay for 25 years. Even I remember singing in COS production when I was fresh out of college."
The third concerts takes place Friday, April 27, at Haymount United Methodist Church at 7:30 p.m. It is titled "We Sing to Experience." Britt said, "This concert is dedicated to choir works every choral group should be doing — things like Mozart and Mendelssohn, things like that, which are very familiar."
While he does hope to continue reaching out to the community, Britt said he plans to "continue the excellent work the COS did for the last 25 years. Last year they were inducted into Fayetteville Music Hall of Fame. This is an established group here in the community. It is my job to continue their efforts. That is the goal right now — to continue that standard of excellence."
To find out more about the Cumberland Oratorio Singers, or to purchase tickets to a concert, visit www.singwithcos.org.
PHOTO: Jason Britt is the new director of the Cumberland Oratorio Singers.