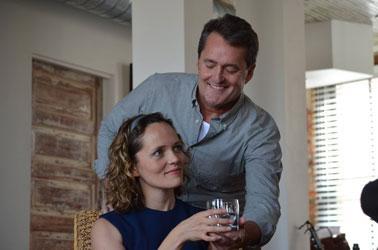 Riding on the success of sold-out performances of "Dreamgirls," the Cape Fear Regional Theatre will next bring local audiences a classic thriller sure to showcase the talent of cast and crew alike.
The scene for "Wait Until Dark" is a basement apartment in New York City's Greenwich Village in 1967, said director Talya Klein. Susy and Sam Hendrix are newlyweds.
"She lost her sight two years ago," Klein said. "Sam is an ex-Marine, now a photographer, who unknowingly becomes a drug mule."
Sam is unaware that a doll he brought home is filled with drugs. When he leaves the apartment, Klein said, "three baddies try to con Susy into giving them the doll. Things escalate and get increasingly more dangerous."
It is a harrowing tale made more unique by the lead character being blind, Klein said.
"Wait Until Dark" was written by Frederick Knott and premiered on Broadway in 1966. A movie adaptation opened in 1967 starring Audrey Hepburn, Alan Arkin and Richard Crenna. Knott also wrote "Dial M for Murder," another play that Alfred Hitchcock adapted for film.
A play confined to one apartment might sound like an easy and simple production, but Klein said "Wait Until Dark" requires sharp focus for set, prop and script details.
"I've never directed a thriller before," Klein said. "I'm having so much fun. The story is beautifully constructed, and every piece means something."
"Everything is a big deal," she said. "When a character is smoking a cigarette and holding a match book, it is important. The details are constructing a chain."
Audiences shouldn't worry that they may miss vital clues and not understand the action, though, Klein said.
"Even if you miss a couple of things, you'll get it," Klein said. "'Wait Until Dark' is for people who love details."
Leah Curney plays Susy in the play. She said her character's blindness is a critical part of the story, but also that the story is really not about that.
"She has to discover how capable she truly is, and her disability becomes an asset," Curney said. "It's like watching really good martial arts. She's using the limitations of this space to her advantage."
Jillian Wickens-Johnson, 13, is making her professional debut in "Wait Until Dark" as Susy's 10-yearold neighbor Gloria. Wickens-Johnson said her character sees Sam as a father figure to her character but considers Susy more of an evil stepmother at the beginning of the play.
"Gloria has a beautiful character arc," Wickens-Johnson said. "She comes in as an angry child and, over the course of the play, … bonds with (Susy)."
Susy and Gloria must work together against characters Klein calls 'the baddies' in the story – the three shady con men trying to retrieve the doll.
Patrick Falcon plays Harry Roat, the mysterious lead con artist. "Roat is an alias," Falcon said. "It is a guise my character constructs. He has a history of darkness. He's very much a nebulous shape-shifter who could be anyone but no one at all."
"I have the job of trying to make the character as vile as possible," Falcon said. "It's terribly fun as an actor."
"Wait Until Dark" is a classic suspense thriller for audiences 13 and above due to some violence. "The most terrifying moments we don't see," Klein said. It is an example of the "story-telling that happens when we have to imagine what happens."
"Wait Until Dark" runs Oct. 26 through Nov. 12. Ticket prices and information about several opening weekend specials are available at www.cfrt.org or by calling the box office at (910) 323-4233.