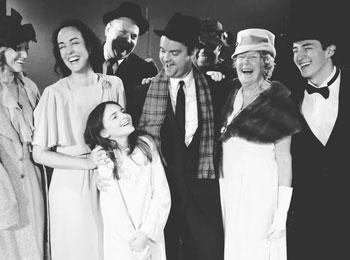 "You see, George, you've really had a wonderful life. Don't you see what a mistake it would be to throw it away?" In the 1946 film "It's a Wonderful Life," an angel named Clarence says this to George Bailey (James Stewart) as Bailey contemplates taking his own life. The quintessential moment in this classic story has clutched the hearts of audiences for more than 70 years because it begs the most human question of all – when do we decide our lives matter? When, in all our daily stresses and fears, do we realize we are needed and important to the people around us for reasons bigger than money? Gilbert Theater's production of "It's a Wonderful Life" runs Nov. 24 – Dec. 4.
George's universal struggle of understanding his worth as an individual still touches viewers to this day. In fact, the Gilbert Theater in Fayetteville will be adapting the story to the stage for its third year in a row.
According to Matthew Overturf, artistic director for the Gilbert, "It's a Wonderful Life" was chosen again for the 2017-18 season because of its incredible popularity with audiences.
With new actors in the iconic roles, a simplistic production design and a meticulous reliance on lighting to create mood and time, the Gilbert is sure to once again bring a more personal touch to an already established classic.
Overturf said, "We've had audiences in the past come and see this production and they say, 'I could see the snow falling in front of George as he was standing on the bridge,' and what's interesting is we don't have any snow in our production. But people see this iconic image (in their mind) and they're able to apply that and look back at the film. So I think audiences will enjoy it because they see something they're familiar with but with a new take."
For those that haven't seen the film before, the premise lies in George as the working-class, family man. He's a husband, father and reluctant owner of a small-town banking business that his father passed on to him. Once upon a time, he had bigger dreams. He wanted to travel the world, go to college and build bridges and skyscrapers for a living. But he gave those up as a result of circumstance and a deep sense of responsibility.
The sacrifices George makes for his family and friends, combined with mounting financial problems, ultimately tip him into the worst kind of despair. Clarence the angel intervenes to show George what the world would look like if he'd never been born.
The earnest sentimentality of the story's conclusion encourages nothing less than waterworks and family group hugs. And the one line will always get you, whether you watch it on television or see it portrayed onstage: "Remember, George, no man is a failure who has friends."
"Families every single year say this is one of their highlights of their holiday season," said Overturf. "I think we've all been in a situation similar to George Bailey. We've all wondered, what's my place in the world? Where do I matter? The truth is, every one of us matters in many ways. We hope that audiences will definitely come back and experience this wonderful, true, every-person story."
"It's a Wonderful Life" will run at the Gilbert Theater from Nov. 24 to Dec. 4 and Dec. 15-17. Tickets are available online at www.gilberttheater.com.