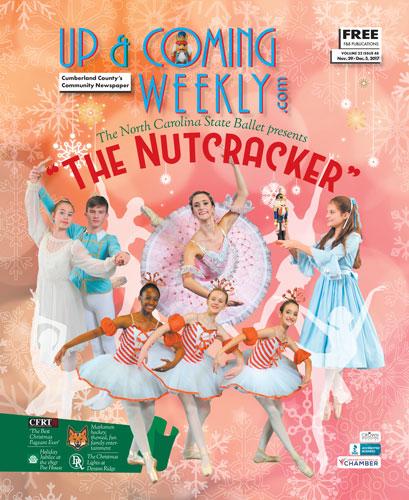 Now in its 42nd year, the North Carolina State Ballet's presentation of "The Nutcracker" is a local holiday tradition. For the audience members, it's a beautiful experience that ushers in the excitement of Christmas. For the dancers, it's a way to honor and continue the legacy of the woman who taught them to dance and to give back to their community. Showtimes are Dec. 9 and 10 at the Crown Complex at 3 p.m.
"The Nutcracker" came to Fayetteville because of a woman named Charlotte Blume. Blume was the prima donna for the NC State Ballet in the 1960s, which was at the time based in Raleigh. When the director decided to step down, Blume stepped up – and transplanted the company firmly in Fayetteville, where she also owned the Charlotte Blume School of Dance. "The Nutcracker" was her passion project, and she oversaw its production every year from 1975 until she passed away a year and a half ago.
"(Blume) basically wanted to bring the arts to Fayetteville," said Dina Lewis, longtime NC State Ballet board member and vice president of the company for the past two years. "That was her love. She wanted everyone to be exposed to it no matter your level in society. She wanted everyone to have that opportunity to see a classical ballet." Dina is also the office manager for the Charlotte Blume School of Dance and was a close friend of Blume's.
"Quality was one thing she was extremely stringent about," Dina said. "You knew if you were cast in this production, this was her baby. Don't ask what time rehearsal ended. If you asked, you weren't in it. She knew if you molded these children, the ones who wanted it and had the ability and were trainable, she knew the good that would come out of it. She was one of a kind. … She wanted this show to become a tradition in Fayetteville. It was her way of giving back, and she passed that mentality on to the dancers."
This year, local ballerinas Ella Lewis (Dina's daughter) and Tiffany Alexander share some of the show's most advanced and difficult roles: Snow Queen, Snow Princess, Dewdrop, Arabian and Jewel. Ella, a sophomore at Terry Sanford High School, has trained with Charlotte Blume School of Dance since she was 3. She's danced in "The Nutcracker" since she was 8. Alexander, a senior at Village Christian Academy, trained in Blume's school since she was 2 and has danced in "The Nutcracker" since she was 9.
"'The Nutcracker' is the most magical story of all holiday stories, and to perform in this holiday tradition is quite an honor," Ella said. "From the snow that falls from the ceiling in the first act to the beautiful variations that are performed on pointe in the second; from start to finish, it is breathtaking."
Alexander mentioned the "life-sized dolls … and larger than life-sized food" as a few of many magical elements in the show, but for her, "the music is what really brings the show to life. The music makes it feel as if you really have traveled to a different place and time."
Ella and Alexander agreed that the show is a tribute to Blume's work in Fayetteville, her ideals and her legacy. "I think this is why I look even more forward to (dancing in the show) now; it feels like she's going to come out of the wings and make her corrections and then applaud us after we have performed," Ella said.
"The Nutcracker" follows a young girl, Clara, who receives the gift of a nutcracker carved as a toy soldier from the magician Drosselmeyer on Christmas Eve. In her dreams that night, Clara is whisked into a magical world. The nutcracker transforms into a prince, who helps her fight the evil Mouse King before escorting her to the Land of Snow and the Land of Sweets. Clara meets the Sugar Plum Fairy, the Flower Queen, Mother Ginger and many other enchanted characters; she also travels to Spain, Russia and China. The ballet debuted in 1892 with a score by Russian composer Pyotr Ilyich Tchaikovsky and choreography by Marius Petipa and Lev Ivanov. It is based on E. T. A. Hoffmann's story "The Nutcracker and the Mouse King," which was written in 1816.
Dina said the NC State Ballet's production of the show primarily uses Blume's original choreography, which she created using inspiration from Petipa and Ivanov. However, some choreography and other elements in the show have been updated.
Sheila Mitchell, in her 47th year of teaching at the studio, put on the majority of this year's rehearsals. The core of the production is made up of dancers ages 9 to 17. Alumni of the studio also returned to help with choreography or to dance in the show, including Jessica McAlister, Adam Chavis and Deprecia Simpson. Eric Hoisington, who's danced everywhere from San Francisco to Broadway, will play Drosselmeyer and is also helping re-work elements in the Arabian and Russian dream sequences.
"We've replaced quite a few costumes, doctored up a lot of the scenes," Dina said. "We're bringing it a little more forward and constantly letting it evolve into what Ms. Blume would have expected us to have done. ...That legacy that she left behind us, there's this obligation and sense to carry it forth."
Young Clara is played by Laura Jones and Ava Knight. Brynna Nunez and Marissa Morris are cast as grown Clara. Other cast members include Haebin Drewery and Halea Joines as Fritz, Audra Bussey as Mouse King and Cai Davis as the Nutcracker Prince.
In many ways, audience members will feel and see the impact of Blume's life in Fayetteville as they watch "The Nutcracker." They will see it in her choreography. They will see it in the quality of classical technique developed under her exacting standards. They will see it in the love for dance and the love for sharing this story with the community that she instilled in the performers. They will see it in the affordability of the ticket prices, in line with Blume's desire to make classical ballet accessible to everyone.
Some elements of the show, though, will honor Blume in ways that will be most strongly felt by those dancing onstage. Her portrait will hang above the set's fireplace. Her stool that she'd sit on during pointe class will observe the proceedings during the Arabian variation. And the Snow dance – her favorite – remains completely untouched so that it will look just the same as if she were still with the dancers. "(This production) was her heart and soul," Dina said. "We tell everyone that her ghost still lingers in the studio."
Purchase tickets for the Dec. 9 and 10 shows by calling (910) 484-3466. Cost is $20 for adults, $10 for children 12 and under and free for children under 5. Learn more about the Charlotte Blume School of Dance at www.charlotteblumeschoolofdance.com.