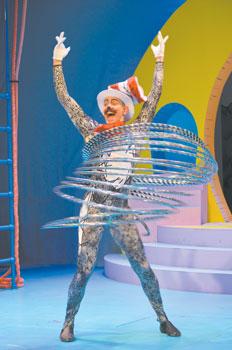 The team that brought local audiences "The Little Mermaid" last season will bring "Seussical The Musical" to the Cape Fear Regional Theatre Feb. 1-25.
The show brings some of your favorite Dr. Seuss characters to life – to include The Cat in the Hat, Horton the elephant, Gertrude McFuzz, Mayzie La Bird and JoJo – the tiniest resident of Whoville.
With several special events planned for Dr. Seuss fans of all ages, CFRT Artistic Director Mary Catherine Burke said this is an adventure not to be missed.
"The show is the most delightful kaleidoscope you can imagine," Burke said.
In collaboration with 2 Ring Circus, CFRT is bringing back many cast and crew members who helped make "The Little Mermaid" such a crowd-pleaser last season. Director Melissa Rain Anderson said the audiences will again see creative dance and circus choreography that take the production to another level.
"To our knowledge, this is the first circus treatment of 'Seussical,'" Burke said.
While audiences can expect to see more aerial arts than in "The Little Mermaid," the acrobatic elements are purposeful and serve to elevate the show, not overpower the story.
"None of the circus 'tricks' are there just to be circus," said Ally Ivey, who plays JoJo. "Everything is there to forward the story."
The story is a tale about the powers of friendship, loyalty, family and community. Perhaps, most importantly, the story highlights that diversity of thought is a good thing and respect for that diversity makes communities stronger.
The musical is an amalgamation of several books by Dr. Seuss and introduces us to Horton, an elephant who discovers a speck of dust containing the Whos of Whoville, including little JoJo. JoJo is sent to military school for 'thinking too many thinks.' Horton must protect the Whos and an abandoned egg left in his care by Mayzie La Bird.
While the plot points may sound familiar to Dr. Seuss fans, one need not be an avid reader of the books to appreciate "Seussical."
"You don't need to have any knowledge of Dr. Seuss to enjoy this experience," said Dax Valdes, who plays Wickersham. "Some kids will see themselves in JoJo or the bullies, and maybe they can come away changed."
Adults will enjoy the show, too, Burke said.
"It's amazing how much adults want to play and be creative and imaginative – they just need permission," she said.
"Seussical The Musical" runs Feb. 1-25 with special events for families and military, as well as a book drive, a VIP experience and a sensory-friendly performance. Tickets range from $17-$32. For more information, visit www.cfrt.org or call 910-323-4234.