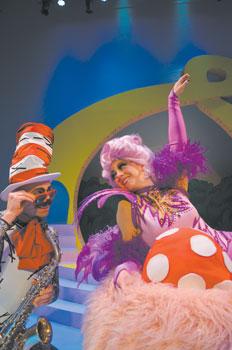 A Cat with a hat, and a boy with ideas,
An elephant on a nest – wait, is this for real?
A trio of bird-girls and monkeys, say what?
A typical show at CFRT, this certainly is not.
On adventure with Horton to save a planet of Who's,
But first we deal with a trial, an egg and a sour kangaroo.
It's excitement in Haymont not normally seen,
With a Circus of tricks to make even the Grinch green.
JoJo shows us the way with his very first think,
And brings to life this menagerie
– you'd better not blink!
This Cat with striped hat is a treat to behold,
His voices and movements, they never get old.
In the air we find Mayzie, on ropes and on rings,
And her voice is truly a-Mayz-ing when she sings.
Not to be outdone, another bird named Gertrude
Steals our hearts with her devotion to Horton, the elephant dude.
Poor Horton, he's clueless, but loyal and decent.
He'll do the right thing, you can bet 100 percent.
Those Wickersham boys are nothing but trouble,
But gifted with stunts and stilts, they might even juggle.
The costumes are fit for dance and for flight,
With designs of feathers and colors to delight.
Cast and crew are talented, even gifted I'd say,
You'd better get your ticket – do not delay!
The word will spread 'round the 'Ville soon enough,
This show is a sensation – that's not even a bluff.
The Director pulled together a fantastic display,
The theater "Rained" down with applause as they say.
About Dr. Seuss, really, nothing you need know,
Before going to catch this magnificent show.
Suitable for all ages and colors and creeds,
This joyous tale is just what we need.
Cape Fear Regional Theatre presents "Seussical The Musical" in collaboration with 2 Ring Circus. The show is directed by Melissa Rain Anderson with music by Stephen Flaherty, lyrics by Lynn Ahrens. The show stars Ben Franklin, Ally Ivey, Lani Corson, Paul Urriola and Tess Deflyer.
The show runs through Feb. 25 at CFRT with special events for families, military, a VIP experience and a sensory-friendly performance. For more information, visit cfrt.org or call 910-323-4234.