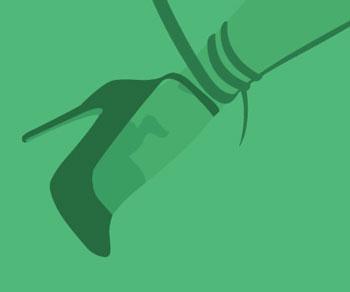 From the jump, I don't like this guy. He's a pretentious jerk with a genuine chip on his shoulder when it comes to women. He thinks women are stupid and shallow and uncultured. He says, "Most 24-year-olds sound like 6-yearolds on helium." As a 24-year-old myself, that kind of generalization grinds my gears. And this is just the first 5 minutes of the Gilbert Theater's production of David Ives' "Venus in Fur."
But as the drama unravels, irritation transforms into a ticklish delight for sitting in what is perhaps one of the most feminist plays I've ever seen. It's rough around some production edges, but for a two-person play, the actor and actress truly attempt to rise to the occasion.
The play is a reimagining of the 1870 book by Leopold von Sacher-Masoch, which has all the kinky flourishes of the S&M world, but wrapped up in high-brow Victorian mystique.
The stage adaptation, however, could not be farther away from the perspective of an S&M voyeur. It begins with the aforementioned jerk, a playwright/ director named Thomas, played by Justin Matthew Toyer. He's bemoaning over the phone how there are no actresses built for his adaptation of this dusty classic.
In walks Vanda Jordan, played by Nicki Hart, with bags of costumes over her shoulder and a ton of excuses. She's late for her audition as the Victorian dominatrix. That's of no consequence, though, because she's game to start now. And by god, does the game begin.
Unlike with Thomas, Vanda is hilariously vulgar and sharp. I think it's safe to assume the rest of the audience liked her as well I did – especially when she says such relatable stuff as, "Usually I'm real demure and shit." Hart demonstrates a rare clarity of presence onstage. Meaning she's there, not just pantomiming to be there.
As they begin to read lines together, the figurative power play of the story turns into a literal one between the two.
Vanda knows just how to bolster Thomas' ego, offering a few insights here and there, making some jokes at her own expense. When it becomes glaringly obvious that Vanda knows the subtext of the story better than Thomas, the tide starts turning. She starts to direct the director before eventually having him read as and be punished as Vanda himself. It's a play that can put itself in a woman's often-compromising position, but then gives her the agency to see herself out of it.
Hart and Toyer in the main roles are to be applauded for their efforts – though one could argue you can't often feel the sexual tension from their situation. It's more so a political tension.
Hart definitely had the tougher task of switching vicariously between the British-Victorian Vanda accent and what can only be described as the New Jersey Vanda accent – all the while standing in nothing except some fabulous lingerie. The ending was a disappointment in this wardrobe regard, though. Let's just say, in Thomas' humiliation finale, it would have been only right to strip him down to his bare essentials.
Still, rarely is a story so fascinating to me that I'm forced to imagine motivations of the story before the story. But "Venus in Fur" made me do just that. I couldn't help but wonder if the script was really dropped on Vanda's agent's desk. Was her name ever really Vanda? Is she some kind of feminist vigilante that shows up at auditions to dismantle male writers' baseless points of view on women?
All of the above I hope are true.
"Venus in Fur" plays at the Gilbert Theater until Feb. 17. Call 910-678-7186 for tickets and for more information.