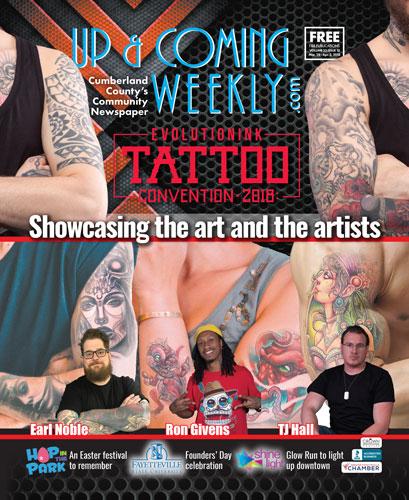 "You'll be in here and you'll see a lot of families, strollers, babies, kids," said Evolution Ink founder Bill Brown, who co-owns and runs the studio with his wife, Betty. Evolution Ink on Cliffdale Road, by design, does not fit the typical mold for a tattoo parlor. Their customer base, the Browns said, includes pastors, soccer moms, lawyers, doctors, school teachers, service members, young people, old people – everybody. This year, the Browns debut the EvolutionInk Tattoo Convention 2018 the weekend of April 13-15 with free admission.
The studio
The Browns, who both come from the business world, describe their approach in running the studio as new-school. Bill founded Evolution Ink in January 2008. He's got a demonstrated entrepreneurial spirit, having previously worked in Raleigh in the pharmaceutical, landscaping and rental management industries. One of those renters owned a tattoo shop and suggested he and Bill try opening one of their own. Bill agreed, but he knew he wanted to run things differently than he'd seen.
Ten years later, Bill is no longer with his original partner and now runs the business with his wife. "He was a single owner that became a married owner," Betty said. "That's how we merged."
Betty's background is in life insurance; she was ninth in the nation in Woodmen of the World's 2000 salesforce.
"We are both salespeople," Betty said. "And sales people handle things differently than just an ordinary person."
"We took our business principles we learned in the corporate world and applied them to the tattoo industry," Bill said.
According to the Browns, that looks like prioritizing customer service above all else. It looks like inviting people in and encouraging artists to adjust to their clients rather than making clients feel intimidated by an industry they might think they don't fit in to.
"We've kind of broadened the type of customers that come into a tattoo shop," Bill said. "We're family-oriented, number one, so we invite families in. Kids come in, and they're usually well-behaved because they've not been in a tattoo studio before. We give them fake tattoos, and we give them some gummy bears. … We're very clean-cut."
That's not to say artistic excellence is compromised in the name of wholesome vibes. The studio boasts 18 artists who hail from all over the country and beyond – artists have moved from Ohio, Michigan, Florida, Louisiana and Cuba and Puerto Rico to work at Evolution Ink. After coming to the studio and doing a trial run for a week or two, if it's a good fit, "we help them move their families here," Betty said.
The artists range in experience from 3 years up to about 30 years – most are on the higher end, Bill said. The youngest, David is in his early 20s, and the oldest, Kenny, is around 50 years old.
Earl Noble joined the team last year, a few years after competing on season 6 of SpikeTV's "Ink Master," one of the highest honors in the industry. (Editor's note: This article previously incorrectly stated that Noble won season 6 of "Ink Master.") Angelika Graca joined at the same time. She is originally from Poland, has 10 years of experience and favors painterly realistic or illustrative nouveau styles. Shane Standifer, who served as a marine, has been with Evolution Ink for almost 8 years and has 28 years of experience. He's known for his line work and color. William Kenneth Dickman, who's worked at Evolution Ink since opening day, specializes in black and grey work, particularly animals. He has 31 years of experience.
Bill said 18 artists all working in one shop has got to be one of the largest in the U.S. "They're able to really learn among each other; it's a good environment for them to get better," he said. "We have topquality artists; they learn from each other, and they all push each other to be better."
The large range also means it's easy for a customer to walk in, browse portfolios, chat, and find the right artist for the tattoo they'd like.
"The artists are like our children," Betty said. "We love them, we protect them. We do everything to help them, and they do everything for us. … We have artists who want to join us, we just don't have room right now. It's a hard world in the tattoo industry."
The studio offers piercings as well, and the Browns said their customers often tell them they were referred to Evolution Ink by their doctors or pediatricians. They use high-quality steel, and their piercers have a combined 25 years of experience.
The convention
The April 13-15 EvolutionInk Tattoo Convention 2018 is going to be like one big community party held right in the studio space, Bill said. There will be two guest Ink Master artists, TJ Hal and Ron Givens, in addition to resident Ink Master Earl Noble and the rest of the staff.
Tattoo conventions and festivals usually charge a minimum entrance fee of $25, with fees averaging $65 for a three-day event like this one. Bill and Betty made this convention's admission free so entire families could come and get the chance to meet celebrity artists and even get inked by them without breaking the bank just to get in.
"Instead of paying $40 or $50 to get in, (attendees) can take that money and get a tattoo that day," Betty said.
Everyone who gets a tattoo or piercing will receive $25 off their tattoo or $5 off their piercing plus aftercare. They'll also walk out with an Evolution Ink T-shirt, fan tag, magnet, window decal and water bottle. Attendees can further knock down expenses by dressing up as a sugar skull for the Friday of the convention, which happens to be the 13th. Anyone who goes all out with a costume and face paint will be gifted a $100 Evolution Ink gift card that can be used at the convention or any other time.
Thursday, April 12, Evolution Ink will offer $13 flash tattoos ($50 is usually the minimum) as a preparty initiative.
Betty noted that many will just want to come in and meet the Ink Masters, and that's fine, too. "They may not have the money to come and see and be a part of a big tattoo festival," she said. "This is to give back to the community."
The Ink Masters will do a meet-and-greet for an hour of each of the three days, and the rest of the time they'll be inking customers – first come, first served.
Three bands will play live music – Eastline on Friday, the Guy Unger Band on Saturday and River Mist on Sunday. Q98's "The Jeff Davis Show" will broadcast live from the convention from 2-6 p.m. on Friday. Rock 103 will be there on Saturday, and Q98 will close the fest out on Sunday. Ms. Sarah of Q98 is going to live broadcast herself as she gets a tattoo.
Guests will also get to meet EJ "Skullcrusher" Snyder, Fayetteville's own three-time champion of Discovery Channel's "Naked and Afraid." Babann's Southern Fried Chicken food truck will be on-site throughout weekend, too.
A portion of the event's proceeds will benefit St. Jude's Children's Hospital, Fort Bragg Fisher House, the Fort Bragg chapter of United Service Organizations of North Carolina, and the Fayetteville Animal Protection Society.
The Browns are excited to mingle with both newcomers and familiar guests.
"I like to know about where you're from, your children, your family," Betty said. "When you do that, you take down any barriers that people have."
Evolution Ink is located at 5924 Cliffdale Rd. Visit www.evolutioninkstudio.com or call 910-323-2243 to learn more.