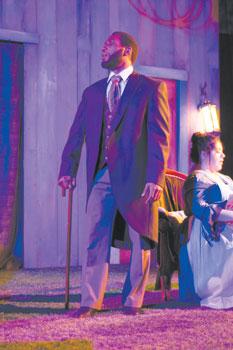 The sun sets on a picturesque Sunday afternoon in Fayetteville. Further down the hill on Hay Street, the annual Dogwood Festival was wrapping up its final day, but in the backyard behind the 1897 Poe House at the Museum of the Cape Fear, blankets were being spread and folding chairs were being opened in anticipation of a production of Sweet Tea Shakespeare's "Jane Eyre."
The play is an adaptation of the Victorian novel of the same name by Charlotte Brontë. It's about an orphaned girl who grows up to become a governess at Thornfield Hall where she is charged with looking after Adèle, the ward of a wealthy man named Edward Rochester. The novel and the play focus on the evolution of Jane's relationship with Rochester, which is never as simple as it might seem.
Director Jessica Osnoe and her crew have assembled a cast worthy of bringing this show to life. Jen Pommerenke turns in a delightful performanceas Jane – the humble orphan-turned-governess. Pommerenke brings a unique and quiet charm to the role. Opposite of Pommerenke for most of the production is Richard Adlam's Edward Rochester. Adlam's charisma commands attention any time he is onstage.
The rest of the ensemble is a delight as well. Sweet Tea Shakespeare employs an old theater trick called "doubling," which allows performers to work in multiple roles. This is the case with the rest of the performers in this production, who are all a pleasure in their own right.
Alexcia Thompson (BlancheIngram/Bertha Mason) plays an essential part in the narrative and is a commanding presence. She brings such commitment to her part as Bertha, the mysterious laughing woman hidden away in the attic of Thornfield Hall, that the audience will inevitably want more of her.
Traycie Kuhm-Zapata (Mrs. Fairfax/Mary Rivers) confidently leans into her position as a source of comedic relief. Gage Long (St. John Rivers/LordIngram/Clergyman) captivates and Annalise Kelly (Adèle Varens/Hannah Smith) is a treat to watch as is Erin Fossa (Mary Ingram/Diana Rivers). Gabe Terry (Richard Mason/Host), who has a unique and rewarding delivery, rounds out this capable ensemble.
According to Osnoe, "Sweet Tea Shakespeare creates a home for beautiful, wondrous storytelling, so 'Jane Eyre,' the story of an orphan in search of love and home, makes perfect sense for us."
Pommerenke agreed: "'Jane Eyre' is a timeless story that is recognized by so many. To me, both Jane and Rochester find a home in the love and acceptance of each other. But home also comes in the form of redemption, forgiveness and family in this story."
Long added that working on 'Jane Eyre' has been a true pleasure. "I'd have to say, besides working with a passionate cast, my favorite aspect (of this production) would have to be bringing the script to light on stage. With the help of Miss Osnoe, we're able to bring deeper insight into Brontë's story. My deepest hope is to connect with an audience, and I get the joy of doing that at every performance."
It is clear that the entire cast shares in that sentiment. It is a joy to watch the company at Sweet Tea Shakespeare bring this story to life.
"Jane Eyre" continues with shows May 3-6, starting each evening at 7:30 p.m. Tickets range from $8-$20. Children under five are admitted for free. For more information, or to order tickets, visit www.sweetteashakespeare.com or call 910-420-4383.
PHOTO: Richard Adlam plays Edward Rochester.