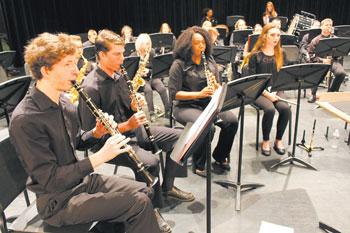 The Fayetteville Symphony Orchestra presents the Fayetteville Symphony Youth Orchestra's Spring Concert Sunday, May 20, at 4 p.m. at Fayetteville Academy.
"The purpose of this group is to give kids another opportunity to play; they are not incompetition with anybody," said Dr. Larry Wells, music director of the FSYO. "This concert will feature all three of our ensembles: a concert band, a string ensemble and the full orchestra."
Wells added that one of the things he loves about this group is they don't do many arrangements and they do the real versions of the compositions.
"Some of the pieces are quite difficult and the students are learning how to manage professional music situations, so it is not watered down," said Wells. "The full orchestra is doing the real version of John William's movie music to 'Jurassic Park,' which is fantastic." Wells added all of the groups are playing tough pieces, and it should be a great concert.
The FSYO is now accepting applications for the 2018-19 school year. Registration deadline is Friday, Aug. 31. The orchestra is for students ages 13-21 in public, private or home-school, who have experience playing the violin, viola, cello, double bass, flute, oboe, clarinet, bass clarinet, bassoon, saxophone, French horn, trumpet, trombone, euphonium, tuba orpercussion.
An advanced summer music camp will take place June 25-29 from 9 a.m.– 2 p.m.at Fayetteville Academy. It is suited for advanced players. In addition to the age requirement, the student must be able to play a two-octave chromatic scale and know at least five of the 12 major scales on their instrument and/or the student must have been participating in the FSYO for at least one year. The registration deadline is June 8.
"We don't turn anybody away and we will find a home for you," said Wells. "We invite everyone to come out to the concert and see what the students have learned."
The concert is free and open to the public. For more information about your child's opportunity to be a part of the FSYO, call 910-433-4690 or visit the website at www.fayettevillesymphony.org.