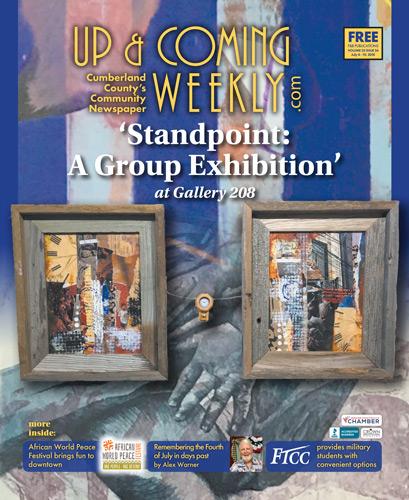 "Standpoint: A Group Exhibition" at Gallery 208 opens Tuesday, July 10, with a reception from 5:30-7 p.m. It showcases a joining of 11 artists who work as higher education art faculty in Fayetteville, North Carolina.
Higher education art faculty in this city are like all other universities and community colleges faculty. As members of the faculty they have three roles: teaching, service and scholarship. In the area of teaching, each day is different, with unexpected situations to resolve and new material or techniques to research and apply. Service can be for the department, the university, the community, professional service or all four. Then there is scholarship, the making of new works of art if you're a faculty member who teaches a studio class.
What's unusual is that many of the full-time fine art faculty from competing schools in Fayetteville have come together to build their personal relationships as practicing artists – not as educators – by creating a comradery of support and even to have an occasional potluck dinner together.
It all began with an idea after the director of Ellington-White Contemporary Gallery, Calvin Mims, brought several artists together to talk about initiatives for the community and what the faculty needed. Mims started by inviting full-time and part-time art faculty from Fayetteville Technical Community College, Methodist University and Fayetteville State University to do the recent group show titled "Higher Ed Fayetteville Art Faculty Exhibition." That lead to a couple of potluck dinners and discussions about enrichment for each other as artists.
"Standpoint: A Group Exhibition" at Gallery 208 is the result of those discussions over dinner. The artists from academe include Vilas Tonape from Methodist University; Callie Farmer, Katey Morrill and Robin Teas from Fayetteville Technical Community College; and Shane Booth, Dwight Smith, Vicki Rhoda, Jonathan Chestnut, Skylor Swann, Dwight Smith and yours truly from Fayetteville State University.
The 11th artist is Christopher Happel. Happel is employed at Ellington-White Contemporary Gallery and is a recent graduate from the University of North Carolina at Pembroke, focusing on the medium of sculpture. The group, New Vision Collaborative, wanted Happel to be part of the first-year initiative since he is a millennial among seasoned artists. All were interested in the insights of a young millennial who is also a dedicated artist. For Happel, he's happy to be able to interface and exhibit with experienced artists and educators.
"Standpoint: A Group Exhibition" includes a lot of variety since each artist brings his or her own expertise, style and purpose for creating works of art. Two works were selected by each artist for the exhibit; the range of media includes paintings, drawings, sculpture, ceramics and prints. "Standpoint: A Group Exhibition" is the kickoff event for a year of collaboration among the participants in what they're calling the New Vision Collaborative.
After one year of collaborating with each other in workshops to share technical information, provide support for artists to try new mediums, and to offer group critiques and discussions, another exhibition will take place June 2019 at Ellington-White Contemporary Gallery titled "Standpoint: 365."
The Fayetteville area has embraced many art initiatives and alliances to improve the arts locally over the years. But, this group of artists/educators has one common goal – to enrich themselves and maybe others along the way. Dwight Smith from FSU noted, "We have a connection between the three schools – a passion for the arts, and intellectual exchange.
Calvin Mims commented, "All of the artists in this group are continually engaged in the pursuit of excellence."
Callie Framer, a printmaker from FTCC, reminded our group that students have us (their teachers) and each other to critique their work. Yet, as professionals, it would be helpful to have professional critiques. For students, seeing us exhibit together offers a good example of the continued efforts of local art faculty. Faculty can share techniques and strategies about how to stay creatively focused instead of falling victim to teacher burn-out.
Already, during the dinners, members of New Vision Collaborative have had discussions about relevant websites and ways to engage the public with unfamiliar styles. The next meeting will include creating a calendar of events for the group and more events for the public to attend.
Skylor Swann, a new ceramicist at FSU, noted he was interested in participating since he wanted to share new research, process and materials. As well, he is interested in looking at what artists are not doing and examining his own personal growth as an artist. He said, "We all bring something different to the collaborative – life experiences and viewpoints."
Jonathan Chestnut brings his interest and knowledge of technology to the collaborative. Chestnut teaches the computer graphic classes at FSU and has always been interested in sculpture. During the last eight years, in addition to teaching, his focus has been on ways to apply technology to fine art. From laser cutters to 3D modeling, Chestnut has influenced artists in his department to use technology. In "Standpoint: A Group Exhibition," Chestnut is exhibiting layered wall reliefs created by using the laser cutter at FSU.
Vicki Rhoda, the new art education instructor at FSU, was quick to point out how "we share with the community an identity and our expertise. By having exhibitions, we are demonstrating our belief in the importance of art and how art is a constructive interaction among people in public spaces."
So, it will be an interesting year for New Vision Collaborative, culminating in the 2019 exhibition at Ellington-White Contemporary Gallery. The group is not interested in becoming a nonprofit organization but will remain open to change and choices. The year ahead will include discussing ideas in think-tank formats, sharing websites and suppliers, conducting workshops and critiques amongst the group, and planning events for the public to attend. By the end of the year, the artists will have been enriched and come to understand what works and what doesn't work before expanding the group.
Calvin Mims was more than happy to have Ellington-White Contemporary Gallery be the central place for the group to meet and plan the activities. Mims said, "I think it's important the New Vision Collaborative is thinking about what is missing in the community when it comes to the visual arts. As contemporary artists, it's important the public sees the value and importance of contemporary art in a community. As well, your students will see that you do what you are encouraging them to do. So, coming together and having a presence in our community is relevant."
The public is invited to attend the opening reception of "Standpoint: A Group Exhibition" at Gallery 208, located at 208 Rowan St., from 5:30-7 p.m. July 10. The show will be up until early September. The gallery hours are 9 a.m.-5 p.m., Monday through Friday. For more information, call 910-484-6200.