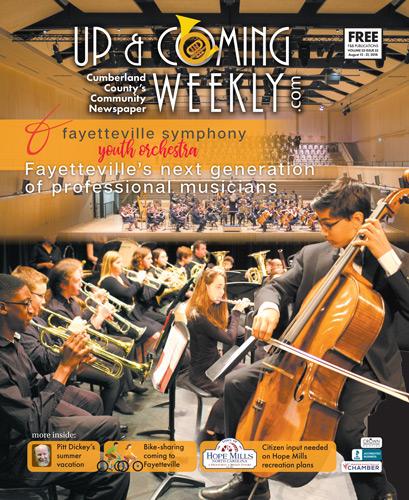 Dr. Larry Wells, director and conductor of the Fayetteville Symphony Youth Orchestra, thinks laughter is essential to the learning process, but he's not here to play. He's here to train Fayetteville's young musicians to operate at a professional level and to help build Fayetteville into a city where the best and brightest want to stay.
"It bothers me that ... our best young people want to leave," he said. "That doesn't bode well for our future if that continues. In my little way, because I just have my little slice of this pie, I want to have something that young people want to stay and do."
Wells plays trumpet with the Fayetteville Symphony Orchestra and the Carolina Philharmonic and is a professor and director at Methodist University. He holds a Master of Science in teaching music from Portland State University (1996) and a Doctor of Musical Arts in trumpet performance/wind conducting from the University of North Texas (2006).
Though his current resume is impressive, Wells said growing up there was a lack of programs for young musicians in his home-state, Washington, and that he didn't have access to professional training until college. This is a situation he never wants to happen to Fayetteville's young talent.
"There are certain rules in the professional world that young people won't have been exposed to unless they're in a program like (the FSYO); even how you practice and go about your day, how you dress," Wells said. "The youth symphony is an opportunity for kids to study."
The FSYO, which was formed in 2014, is open to students ages 13-21 in public school, private school or homeschool. It includes Cumberland County students as well as students from many other counties.
Wells said the FSYO is not meant to compete with high school music programs, but rather to complement those programs for students who want to go further. For this reason, the FSYO meets on Sundays; Saturdays would force many students to choose between marching band and the youth symphony.
"We're all on the same team," he said. "The high school programs do a great job for what they do. (The FSYO) can be a conduit for the next step. ... There are nitty gritty things like (transposition) that maybe don't really apply on a marching band field but absolutely apply in a concert hall on an audition."
Every week, FSYO students rehearse music for one of three or more concerts they will perform over the course of the year, but there's also a lot of teaching going on.
Wells gives them a basic lesson in conducting so they can follow his movements – "No 1, 2, 3, 4 here," he said. If the students run into a difficult rhythm they don't know how to play, Wells pauses rehearsal and break the rhythm down on the whiteboard. When players need to transpose their sheet music, they learn how to do that, too.
If the flutes are having trouble, Wells calls in FSO flute section leader Sarah Busman to work with them in a separate mini-session.
Students' direct access to their professional counterparts in the FSO is one of the strongest elements of the program, Wells said. "I've got a doctorate in trumpet, but I can't play tuba well enough to teach my kid how it should sound. Here, they've all got access to all of it.
"We talk a lot about intonation, music theory … Whatever the day, it's like ok, this is what's happening, let's talk about (it) from a professional perspective."
The students' hard work results in three or more concerts over the course of one season, culminating in the "side-by-side" concert, in which students get to play onstage with the FSO. The FSO is led by Music Director and Conductor Stefan Sanders, who has conducted for the New York Philharmonic among many other orchestras.
Another of the FSYO's strengths is a structure that allows for both specialization and inclusion. This structure is comprised of a Concert Band (woodwinds, brass and percussion) led by Wells, a String Orchestra (violin, viola, cello and bass) led by FSO violinist Monica Thiriot, and a Full Orchestra led by Wells. Wells said having these separate groups creates two advantages.
First, he said, separating Concert Band and String Orchestra allows students in those groups to play music that's challenging for their instruments. Sometimes, he said, music that's challenging for strings can be painfully easy for woodwinds, and vice versa. It also allows for more specialized instruction.
Second, the structure allows Wells to say yes to every student who wants to learn. No student who auditions is ever turned away from participating in Concert Band or String Orchestra. However, the audition does determine students' seating, and to play in the Full Orchestra, they have to be at the top of their section.
"(This structure) gives me flexibility to meet the needs of all the kids, and it also gives a spot for people where I don't have to say no," Wells said. "You never know when the light's gonna come on for a young person. But if you don't have them in your group, then you'll never know if the light (could) come on. He added that having students with a range of skill levels allows for less experienced players to learn from their seniors and then pay it forward.
String coach Thiriot, who also leads string programs for K-second-graders and ages 13 and under, said her favorite thing about working with the students is giving them music they don't ever think they could play – and getting them to a place where they realize they can.
Wells added that the FSYO's "never say no" policy coupled with the fact the FSYO gets students from school systems as far as an hour away creates a diverse body. Students get to play and connect with other musicians their age they might otherwise never have met.
The FSYO also holds extra workshops and social events outside of its weekly rehearsals. These include free workshops for Cumberland County students that focus on preparing students for things like all-district auditions and college auditions, as well as an end-ofthe- year party at Wells' house and possible field trips.
All in all, it's a program that lets those who are willing to work for it shine, Wells said.
"Good enough isn't good enough for me. … I jokingly tell my students that's why I'm bald. Because my hair will never look good. So it's gone. They laugh, but I get my point across. If they're laughing, then they're learning.
"If mediocre is the best you can do, then don't. Either work hard enough to not be mediocre, or find something you're good at. Way too many people shoot low; I don't want Fayetteville musically to shoot low."
The thing is, Wells said, being serious about music is actually really fun. "It's fun to learn, and it's fun to be good," he said. "It's fun to not suck. Young people get that. And again, they laugh, but they remember."
The FSYO meets on Sundays; Concert Band and String Orchestra separately from 4-4:50 p.m., and Full Orchestra from 5-6 p.m. Registration for the 2018-19 FSYO season must be completed by Aug. 31. When students register, they also sign up for an audition time. Learn more at fayettevillesymphony.org/youth-orchestra. View the FSO's upcoming season, which includes dates for the FSYO's concerts, by clicking on "Concerts and Tickets" and "2018-2019 Concerts."