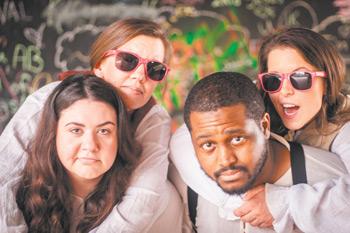 Sweet Tea Shakespeare, the downtown theater company known for quirky outdoor performances that include live music and simple, creative staging, kicked off its 2018- 19 season on Aug. 21 with "The Comedy of Errors." It's a story about two sets of twins who get separated during a shipwreck and the satisfyingly chaotic shenanigans and reunions that follow, and it runs through Sept. 8.
The show is directed by STS Artistic Director and President Jeremy Fiebig, Associate Artistic Director Jessica Osnoe and General Manager Jen Pommerenke.
"It's a story about one giant family that has been torn apart and is seeking one another," Pommerenke said.
In productions around the world, "The Comedy of Errors" is almost always played as a gag show – solely for laughs born from slapstick confusion and chaos. "It's written so hilariously that the text alone could have the audience in bouts of laughter," Pommerenke said. However, she said, STS took a different approach; one that shows how, at the core of the story, there are real hurts the characters experience due to the confusing situations.

"There's a twin that has a wife. So when that wife runs into the other twin, he says, 'I've never seen you before in my life.' So often, that's played as this big joke. And that line always struck me as so hurtful and so sad. We decided as a directing group to try to play the heart of the story as well as the hilarity. ... We sought to find the balance of lifelike truth in it.
"For us, it's a story of the lengths people will go for those they love and those they seek to know."
Pommerenke added that "The Comedy of Errors" is one of the most family-friendly shows STS has put on, and that it's also one of the most accessible stories for those who are not familiar with Shakespeare. "The topic might be confusing, but because of the way we're doing it, people will be able to follow it," she said.
Co-directors Pommerenke and Osnoe are in the unique position of also playing one set of the twins who are central to the story. Osnoe plays Dromio of Ephesus and Pommerenke plays Dromio of Syracus, comprising twin-set No. 1; twin-set No. 2 is Traycie Kuhn-Zapata as Antipholus of Ephesus and Taj Allen as Antipholus of Syracuse. The story's other main characters are in some way tied to these four; there are mothers, fathers, wives, sisters-in-law, friends and powers that be.

When asked about uniquely STS elements in the show, Osnoe talked about the creation of a balcony that happens every night. "It doesn't sound like much, but given that we build our set outdoors on a daily basis, things of that nature pose a challenge in staging," she said. "This particular scene shows our answer to that challenge in true STS fashion."

Pommerenke said the element that comes to her mind is the casting of the sets of twins. While she and Osnoe look pretty similar – in fact, their physical likeness is part of what inspired the decision to do this show – the other two actors are physical opposites. Kuhn-Zapata is a white woman and Allen is a black man. However, throughout the show, the two are constantly referred to as being obviously identical, adding to the hilarity of the situation. This is a casting move Pommerenke said she's never seen in any adaptation of the show.

"The Comedy of Errors" runs nightly, at 7:30 p.m., through Sept. 2 at the 1897 Poe House and Sept. 5-8 at Holy Trinity Episcopal Church. As usual, drinks (including sweet tea and spirits) and food will be available for purchase to enjoy during the show. Look out for a special ginger pomegranate sour crafted just for STS by Sanford-based Hugger Mugger Brewing Company.
To buy tickets or learn more about STS, visit www.sweetteashakespeare.com or call 910-420-4383.
Photo: L to R: Traycie Kuhn-Zapata, Jessica Osnoe, Taj Allen, Jen Pommerenke