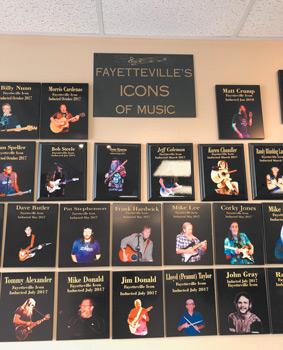 Paul Thompson is a musician and entrepreneur with a heart for this community – especially its big-hearted
musicians. He owned Big Harry's Tavern for 13 years and hosted countless bands there as entertainers, but he also hosted fundraisers to help others. And local singers, songwriters and bands always showed up to give stellar performances. Thompson was so touched by their generosity that in 2011, he created Fayetteville's Icons of Music. "I started this program to recognize musicians who have contributed to events and causes throughout the years," he said.
Sunday, Aug. 26, Thompson will add 12 names to this distinguished list. The celebration is open to the public and includes food, fun and an open mic jam.
Today, Thompson is the proprietor of a new nightclub – Paul's Place – and the program is still going strong.

"Someone came and made me an offer I couldn't refuse," he said about his former establishment, Big Harry's. "So,
I sold and tried to retire for two years." But that didn't work out, and he opened Paul's Place behind the Trophy House on Bragg Boulevard in what used to be Lois's Book Store, continuing his legacy.
The Icons of Fayetteville Music honored Bob Steele as its first inductee in 2011. "Bob Steele started playing in Fayetteville in the late '60s after Vietnam," said Thompson. "I thought (about the fact that) every fundraiser I ever had, Bob was there. So, I presented Bob a guitar with his picture on it."

Thompson noted that this program is not a competition but a way to acknowledge the generosity and good works of Fayetteville musicians. It celebrates the diversity and community of the music scene. "I spent 20 years in the military, and you hear a lot about the band of brothers and the brotherhood. While that is true, the musicians here are like that, too. They cooperate and support each other. I did a fundraiser recently, and we had live music for nine hours and raised $3,000."

The musicians named Icons of Fayetteville Music have a place of honor at Paul's Place – an entire wall filled with their photos and accomplishments. Thompson said this is a true representation of the spirit of giving that resides in local musicians. "I've got some musicians on the wall that I never got along with, but that doesn't diminish their contributions (to the community). They give a lot to this community, and their families always appreciate seeing them on the wall. You have to have been active in the Fayetteville area and supporting this community and made a lasting contribution (to be inducted to the Icons of Fayetteville Music)."

The newest round of inductees that will be honored at the celebration on the 26th are Bill Joyner, Danny Young, Bryan Shaw, Guy Unger, Jerry Godfrey, Scott Miller, Pat Vines, Ken Barfield, Carlton Warwick, Vince Groves, Darrell Collins and Brad Muffett. Food will be served at 2 p.m. followed by a presentation at 3 p.m. A regular Sunday open mike jam follows this ceremony.

Paul's Place is located at 719 Starling St. Search Paul's Place on Facebook to learn more about this event and the many others that Thompson hosts.