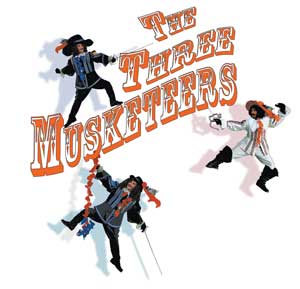 Givens Performing Arts Center will open its 2018-19 season with "The Three Musketeers" Thursday, Sept. 20, and Friday, Sept. 21, at 8 p.m. The show is sponsored in part by Wesley Pines Retirement Center of Lumberton and is directed by Jonathan Drahos, director of theater at the University of North Carolina at Pembroke.
"The Three Musketeers" follows D'Artagnan, who travels to Paris in hopes of becoming a musketeer, one of the French king's elite bodyguards. He discovers the corps have been disbanded by conniving Cardinal Richelieu, who secretly hopes to seize the throne.
Athos, Porthos and Aramis continue to protect their king and refuse to lay down their weapons. D'Artagnan joins the rogues to expose Richelieu's plot against the crown.
The play will feature sword fights, romance, dancing, rolling-in-the-aisles comedy and high adventure.
"This production has an epic spirit – sword fights, romance, dancing, rolling-in-the-isles comedy and high adventure!" said Drahos. "It's going to be a fun night in a great space."
The second performance of GPAC's season, "Jessica Jane & Niels Duinker's Magic Show," is Friday, Sept. 28, at 8 p.m. The show is sponsored in part by the Pembroke Activity Council, a division of Campus Engagement and Leadership, and is part of UNC Pembroke's Family Weekend Events. The duo entertains audiences with juggling acts, grand illusions, dangerous escapes and more.
"We are excited to present a magic show with such high caliber performers as Jessica and Niels," said James Bass, director of GPAC. "If you like high-energy shows that keep you on the edge of your seat, you'll love this show."
Jessica was born into and grew up in the world of magic. Her mother was a magician's assistant for several illusionists, and her father designed magic tricks. At the age of 12, Jessica was being cut in half as a stage assistant. Her first real job was as a roving magician, and she has performed in Europe and around America. She has appeared on Penn & Teller's "Fool Us" TV show. She currently lives in Pigeon Forge, Tennessee, where she regularly performs "Jessica Jane's Magic, Comedy and Variety Hour."
Niels Duinker holds seven Guinness World Records for juggling. He is a three-time winner of the International Magician's Society Award, a three-time National Juggling Champion in The Netherlands and a Gold Medal Winner of the 2009 Taiwan Circus Festival. He has worked all over Europe and Asia. He was voted Best Corporate Entertainer 2018 by Corporate Vision magazine and has appeared at the MGM Grand Casino in Las Vegas, Harrah's Hotels and Casinos and on several cruise ships.
GPAC is located at 1 University Dr. on the UNCP campus. Tickets for "The Three Musketeers" cost $21 and $26 for adults and $5 for children and students.
Tickets for the magic show cost $16 for adults and $5 for children and students.
For more information, call 910-521-6361.