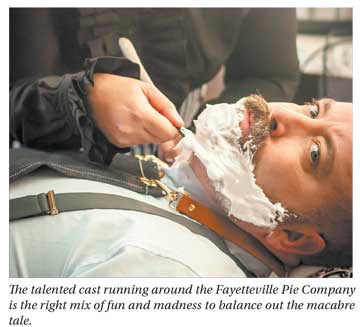 As of this writing, seats for the remaining performances of Sweet Tea Shakespeare's "Sweeney Todd: The Demon Barber of Fleet Street" are selling fast. So, allow me to get right to the point: Call the box office at 910-420-4383 or visit www.sweetteashakespeare.com for tickets. The show runs through Feb. 3, and you don't want to miss it.
Sweet Tea Shakespeare's production of Stephen Sondheim's "Sweeney Todd" probably wouldn't be your first choice for a post-Christmas/pre-Valentine's outing, but it should be. The talented cast running around the Fayetteville Pie Company is the right mix of fun and madness to balance out the macabre tale.
The story is about London barber Benjamin Barker, who is wrongly imprisoned by Judge Turpin, who wants Barker's wife, Lucy. After 15 years, Barker returns, calling himself Sweeney Todd, and begins working as a barber over Mrs. Lovett's meatpie shop on Fleet Street. Seeking revenge, Todd takes his razor to unsuspecting customers, biding his time until he can get the evil judge in his barber chair.
You'll find no sympathy for Judge Turpin in this story. After driving poor Lucy to suicide, the judge takes the barber's young daughter, Johanna, as his ward. He locks her away, intending to marry her, and thinks she should be grateful for his kindness.
Todd is a lunatic, for sure, but he has had 15 years in prison to plot his revenge, all the while growing ever more psychotic. Jeremy Fiebig, STS founder and artistic director, plays the title character with an eerie calmness — the kind that makes you a bit uncomfortable in your seat.
Aiding Todd in his revenge plot is the widow Lovett, played by Marie Lowe. Lovett has fancied the barber since before his imprisonment and sees not only a monetary benefit but also a romantic one to helping Todd dispose of the bodies. It is her idea to bake the victims into her meat pies. The secret ingredient boosts her business and has her dreaming of a retirement by the sea — with Todd.
Lowe steals the show with her upbeat and energetic delivery in a Cockney accent. She is so delightfully sinister, I found myself rooting for her character. But, in a tale about death, revenge and insanity can there really be a happily ever after? Not in this tale, which also has a few twists. No spoilers here, but the ending makes plain that one cannot profit from revenge.
Director Medina Demeter pulls together a fantastic ensemble cast and crew to bring to life the tale with horror, excitement and entertaining music. The cast includes Aaron Alderman, Jennifer Czechowski and Joyce Borum. Heather Eddy plays Johanna and Tyler Graeper is her love-struck beau, Anthony. Allison Podlogar is Tobias Ragg. Gabriel Terry, Jackie Rednour-Hallman and Tohry Petty complete the ensemble.
The Fayetteville Pie Company in Westwood Shopping Center lends its multilevel restaurant as the stage. It is an intimate experience that allows the creative efforts of STS to shine. The restaurant also provides phenomenal pies to audience members for this production as part of the admission price.
For more information on the show or tickets, contact the STS box office at 910-420-4383 or visit www.sweetteashakespeare.com.