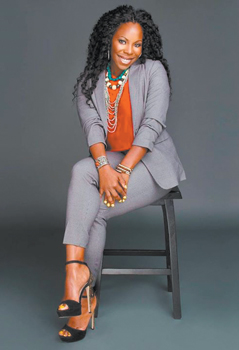 Fayetteville State University's Department of Performing and Fine Arts presents its FSU Jazz Day Festival for middle school and high school jazz bands and jazz combos Saturday, April 6, from 8 a.m.-5 p.m.
A concert featuring the Tia Fuller Jazz Quartet will take place at 7:30 p.m. at Seabrook Auditorium, which is located on the campus of the university.
"The jazz festival started last year to basically help students in our region in the jazz field — to help develop jazz programs and to help develop more appreciation for jazz itself," said Ronald Carter, coordinator of the jazz festival and distinguished professor in the Department of Performing and Fine Arts at FSU. "This year, I am bringing in Grammy-nominated Tia Fuller, who is a performing saxophonist for Beyoncé. She still plays and records around the world with different people."
The festival will include workshops, clinics and performances. "At 1:15 p.m., we will have jazz clinics presented by FSU's jazz faculty and by Tia Fuller's jazz group," said Carter. "The workshops will be about how to use instruments to play jazz, how to develop the concepts, tone and language of jazz, how to play within the jazz ensemble and more."
Carter added the clinics will feature drums, saxophone, piano, clarinet, flute, trumpet, trombone and other jazz instruments.
The first band will play at 8:30 a.m. "We will have high schools from South Carolina and North Carolina and two college groups playing," said Carter. "We have Shaw University's jazz band. Benedict College's jazz band from Columbia, South Carolina, will play too."
Carter added that next year the jazz festival will be bigger and that he aims to eventually start having a historically black college jazz festival.
"This event is educational and motivational — (it's) a great mentorship opportunity and allows participants to meet the students (and) the jazz professors and music professors at Fayetteville State as well," said Carter. "It is community outreach for the colleges that are coming in and also for the students that are coming in from other states as well as Raleigh and the surrounding areas."
All events before 5 p.m. will be free. The clinics are open to the public. The registration fee is $200 for each participating school. General admission for the Tia Fuller Jazz Quartet concert is $5 for students and $10 for adults. For more information, to register or obtain ticket information, email Carter at rcarter11@uncfsu.edu. Tickets can be purchased at www.etix.com.
Photo: Tia Fuller