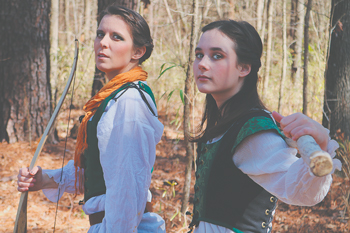 The arrival of spring brings a fresh array of opportunities to enjoy the warmth and beauty of the outdoors before the summer heat sets in. A taste of this worth savoring, April 25- 28 and May 2-12, is "Maid Marian," the latest production in the Honey Series at Sweet Tea Shakespeare. The Honey Series celebrates the work of women in theater and this year, tells a classic story from a new perspective.
"Maid Marian" focuses on the title character and her family, left behind during the Crusades, as they search for resourceful solutions to difficult situations. Those familiar with the Robin Hood stories will find some of their favorite characters as well as new ones to love.
Fans of the Honey Series will recognize actress Jen Pommerenke from previous productions, including "Saint Joan" and "Jane Eyre." Pommerenke, who plays the title role, describes Maid Marian as "a story about learning to stretch yourself and facing your fears — not just life and death fears, but fears of not being enough and the consequences of doing too much or too little.
"It also deals with knowing when your time is done and how to humbly pass on the gift of service to another. The more we rehearsed this story, the more we saw in it the message of doing what you can, where you are and with what you have.
"The women in this story saw a problem and didn't stop when it looked like they could only do a small amount. They saw the people and the needs in their own backyard and said, 'I can do something.'"
For audiences familiar with STS, there are several other returning actors, including Linda Flynn and Laura Voytko, seen earlier this year in "The Comedy of Errors."
Voytko, who plays Marian's sister, Emma, said working on "Maid Marian" has been liberating because of the ways she's been able to push herself out of her comfort zone and share that experience with friends.
Flynn, who has always loved the Robin Hood tales, knew early in the season that she wanted to take part in telling Marian's side of the story. Her character, Joan, is a new addition to the narrative. "The thing I love about (this character) is that we are very similar," Flynn said. "Joan has a big family, she does everything she can to take care of them, and she doesn't hesitate to help her friends in doing what she thinks is right."
For other actors, this is their first STS production. Nelson Soliva, who plays Adam, Marian's brother, is making his theatrical debut. Soliva, originally from Guam, never had the opportunity to be involved in theater as he grew up, but after seeing his first Broadway show, he put being in a play on his bucket list. "I thought it was amazing," says Soliva. "I wanted to be a part of something like that."
Audiences have three weekends to be a part of this world premiere production. "Maid Marian" runs April 25-28 at Fayetteville State University (tickets available through FSU) and May 2-12 at the Museum of the Cape Fear Historical Complex. Preshow begins at 6:45 p.m. and the play starts at 7:30 p.m. For more information, visit www.sweetteashakespeare.com/ tickets or call 910-420-4383.
Photo: Jen Pommerenke (left) as Maid Marian and Laura Voytko (right) as Emma Fitzwalter, Maid Marian's sister.