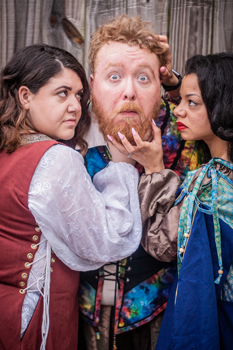 Sweet Tea Shakespeare presents "Richard III" and "The Merry Wives of Windsor" on alternating nights, beginning Tuesday, June 4, on the grounds of the 1897 Poe House.
From this famous opening line, "Now is the winter of our discontent…" to the last line the eponymous Richard utters, "A horse, a horse, my kingdom for a horse!" Shakespeare's "Richard III" is an epic play with reams of dialogue and a huge cast of characters. STS' challenge in presenting it is to condense the script and the cast to fit the Sweet Tea format and yet still tell the sweeping tale that effectively put an end to The Wars of the Roses.
"This production will feature a 'Sons of Anarchy' vibe," said director Jeremy Fiebig. "But what I'd love to mention is that 'Richard III' is source material for some of the storylines in 'Game of Thrones.' In particular, Tyrion Lannister is modeled after Richard."
A brief synopsis of English history is helpful in establishing context. The House of Plantagenet held the English throne from the mid-12th until the waning years of the 15th centuries. Midway through the 15th century, a decades-long struggle to capture the throne ensued between two branches of the House of Plantagenet — the House of York with a heraldic white rose and the House of Lancaster with the heraldic red rose. These battles and betrayals, which came to be known as The Wars of the Roses, killed off the direct male line of both houses and merged York with Lancaster when Henry Tudor, of dubious Lancastrian descent, ascended the throne and subsequently married Elizabeth of York. "Richard III" tells this story.
Shakespeare's script involves the audience as an accomplice to Richard's single-minded intent to seize the English crown. Richard's soliloquies establish his motive, means and methods while, at the same time, his dialogue with others seeks to obscure them — often humorously. Aaron Alderman plays Richard while Cheleen Sugar plays Richard's wife, Lady Anne.
Asked how he intended to portray Richard, Alderman said, "I can't imagine him being a straight villain. I'll try to find the man who fits into the oddly shaped hole that the text has left us. I believe there are moments where he is human, frail and afraid in ways many can understand."
"The Merry Wives of Windsor" is full of marital intrigue and comic impediments to young love. Intrigue ensues when Falstaff, whose name has become synonymous with ineptness, woos two married women simultaneously. A subplot revolves around one father's attempt to marry off his young daughter. "Wives" is directed by Fiebig as well. Alderman plays Falstaff, which should demonstrate his diverse acting talent as the bumbling Falstaff is a 180 from the Machiavellian Richard. Traycie Kuhn- Zapata plays Mistress Ford, and Sugar takes the role of Mistress Page.
"Show up early at 6:45 p.m. for live music, great food and beer and a great backyard party atmosphere," said musical director Jacob French. Performances begin at 7:30 p.m. Ticket prices vary, and there are discounts for students, seniors and members of the military. See Sweet Tea Shakespeare's website, sweetteashakespeare.com, for performance dates and ticket prices. Tickets can be purchased online. Be sure to bring your own seating.
Photo: Richard III" and "The Merry Wives of Windsor" are next up in Sweet Tea Shakespeare's season. STS actors left to right: Traycie Kuhn Zapata, Aaron Alderman, Cheleen Sugar Photo credit: Jacob French