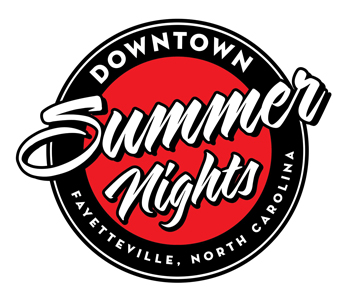 Local bands. Diverse dining options. Fayetteville community. Downtown Summer Nights, a concert series presented by Cumberland Tractor Kubota of Fayetteville, has transformed Person Street into a full-blown block party every Thursday night this summer.
"We had almost 3,000 people on Person Street," said Kelly West, promotions and marketing director for Rock 103, about the night The Embers performed. "Everyone (came) down to shag. They even wore their shagging shoes." Regional tribute bands Legacy Motown, Sidewinder and 20 Ride, a Zac Brown Band tribute, are a few more of this summer's hits, West said.
Every genre from classic rock to 80s ballads, and plenty more, is featured in the programming. There's something for everyone, according to West. "We've had every kind of person down here, every walk of life, everything," including families. The Kids Zone, presented by Fascinate-U Children's Museum and sponsored by ShineLight, includes an inflatable house, crafts and other activities that change weekly. Popular activities have involved everything from making slime to growing chia pets.
Most importantly, the concert series highlights the brick and mortar on Person Street, said Isabella Effon, a member of the Cool Spring Downtown District Board of Directors. "I was the only one programming Person Street," Effon said, referring to her time as a restaurant owner before spearheading Summer Nights Downtown with West. Effon also had Person Street in mind when she started the African World Peace Festival. "We've seen growth. There's so much on Person Street, too."
West and Effon provide crowd-pleasing food trucks, but they also encourage concertgoers to try the eateries lining Person Street. In fact, the food trucks were recently relocated to the parking lot next to Person Street to draw attention to restaurants like The Sweet Palette, Circa 1800, The Fried Turkey Sandwich Shop and, soon, Taste of West Africa, which Effon is planning to open after the summer.
"It's opening people's eyes to businesses that people have never paid attention to," Effon said. "(It benefits) not only Person Street, but the whole downtown district." According to West, shops like Ro's Corner Barber Shop and Back-A-Round Records have also gotten more business since the series' opening.
In the spirit of being community-minded, Summer Nights Concerts always has a local musician perform the National Anthem. Former "American Idol" contestants, the Cumberland Oratorio Singers and even Fort Bragg's own Sargeant Mahoon have led or will lead the community in the Star-Spangled Banner this summer.
Downtown Summer Nights concerts will finish its first run with three August shows. Local band Tyrek and Lotus Sun will open the Aug. 8 show, headlined by Sail On: The Beach Boys Tribute. On Aug. 15, 80's Unplugged and an Earth, Wind & Fire tribute band will take the stage. The season closes Aug. 22 with Dead City Symphony and Heart Breaker, a female-fronted Heart and Led Zeppelin tribute band.
The community can expect this year's favorites, plus some surprises, to make an appearance at next year's Downtown Summer Nights. "The Embers will be back. Legacy Motown will be back. (The) Earth, Wind & Fire tribute band will be back," said West. She hinted that there may be completely new forms of entertainment next year as well.
Downtown Summer Nights concerts take place every Thursday through June 20-Aug. 22 on the 100 block of Person St., next to Ro's Corner Barber Shop. Admission is free. Doors open at 5:30 p.m., and music begins at 6 p.m. The event is brought to the public by Cumberland Tractor Kubota of Fayetteville, Cumulus Media, Cool Spring Downtown District and Five Star Entertainment. To become a vender, or for more information, call Kelly West at 509-901-3467.