In contemporary art, the subject for an artist can range from the decorative to the political, the profane to the sublime, or stark minimalism to excessive detail. For local artist Cornell Jones, "the works are an extension of myself — a record, a reflection. Making new work answers questions for me and keeps me constantly in the mindset of observing the world around me."

In his one-person exhibition titled Small Things that Fit ... Works by Cornell Jones, opening Oct. 1 at Gallery 208, visitors to the opening reception will preview a body of work that reveals Jones' sensibilities to the world around him.
Raised in Alabama, he attended Troy State University and then spent time in New York City, working in art organizations, social work agencies and community organizations after earning a Master of Fine Arts in illustration from the School of Visual Arts in New York. He later returned to our region and presently works as an elementary art teacher in Fayetteville and an adjunct member of the faculty at Fayetteville State University.

Jones distinguishes himself as a Southerner and an American of African descent. He noted: "My cultural identity influences both my artwork and the process through which I create. It is extremely important to me that I reflect my community, experiences and beliefs in the work that I present." What the artist does not state is how the idea of identity is the common thread throughout the works in the exhibit.

Although Jones' heritage is fixed, meaning in each work is fluid, and he leaves us room for interpretation. The exhibit conveys conditions for abstracted circumstance, change and influence. In most of the works, the figure is totally obscure or partially obscured, allowing the viewer to re-examine the identity in each work. Is the figure you, someone you know or a stranger?

How the artist would like us to see something about his "community" is subtle and influenced by his history. Although we do not need to know influences on the work, knowing the influences does alter our perception of meaning, and we are able to connect to the artist; we are able to understand something about his "community" in the works.

Jones described the influences from his childhood: "My process of exploring materials is directly inspired by the time I spent with my great-grandmother as she made patchwork quilts. Often, as a young boy, I found myself threading needles and sorting through her bags of colorful fabric scraps. I still enjoy searching, but the fabric has been replaced with hand-painted and found papers."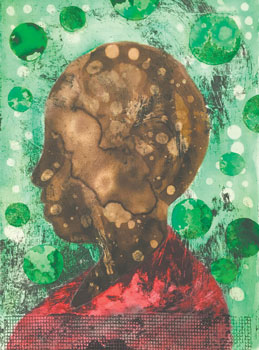 Knowing his history of watching his great-grandmother select parts of fabric to create a whole, we can easily understand how according to Jones, "discarded or fragmented pieces are assembled to create something new into my artistic practice, whether it be drawing, painting or collage. The traditions, rituals, landscape and memories of my Southern upbringing are deeply rooted in my process and product."

Within Jones' busy schedule and his many responsibilities, he still finds time to be a practicing artist. A testament to the creative impulse within him, Jones noted he creates new works because he is curious. "I study things that I might have overlooked, and I enjoy the process of developing or growing an idea from a sketch to a finished piece to a body of work. As a teacher, I also find it necessary to continue creating so that I can talk to students from a place of current experience. I stay active in the creative process by making, learning new skills and researching the ways other artists perceive the world that are outside the way I think about it."

Jones is not only an excellent educator and a family man, but he continues to share his work with the public in exhibitions. His work has been included in exhibitions in New York and North Carolina. Most recently he was selected to exhibit in 2017 at the Arts Council in Fayetteville/Cumberland County for the 10:10:10 exhibit. Jones' works have also been exhibited at the Delta Arts Center in Winston-Salem, the Greenhill Center for North Carolina Art in Greensboro and Ellington White Contemporary Gallery in Fayetteville.

For Jones, due to his professional and personal obligations, the greatest challenge is setting up a routine he can follow to create new works. Although his creative time is often interrupted, he noted how he still tries to be consistent and routinely returns to the studio to create new work.

The routine of making time to continue to be an artist may have been influenced by his upbringing and watching his great-grandmother making quilts. One cannot imagine a clearer view of his creative impetus, he is still the innocent child at the table with his great-grandmother, exploring and assembling materials. For Jones, like his great-grandmother, the creative experience is "following ideas … artmaking is an exploration in materials and concepts. I reflect. I record. I draw. I paint. I cut. I assemble," said Jones.

Everyone is invited to meet Jones at the opening reception of his exhibit, "Small Things that Fit ... Works by Cornell Jones," Tuesday, Oct. 1, at Gallery 208, at 208 Rowan St. in Fayetteville, between the hours of 5:30-7 p.m. The artist will do a short presentation at 6 p.m. and share insight with everyone about his process and the content of the works in the exhibit.

For anyone not attending the opening, the exhibit will remain up until Dec. 15. For information call 910-484-6200.