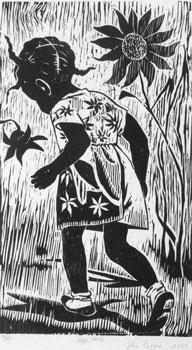 Gallery 208 is privileged to start the new year with a selection of original works by the late American artist John Biggers. Best known for his narrative murals, John Biggers dedicated his work to the depiction of the human condition and the interdependence of family — from ancestry to the multigenerational. The exhibition, "John Biggers: The Lasting Legacy," opens Jan. 14 at Gallery 208 in Fayetteville.

Born in Gastonia, North Carolina, John Biggers (1924-2001) was the youngest of seven children. Cora Biggers worked as a housekeeper and Paul Biggers was a teacher, principal and minister. Both parents encouraged all their children to pursue an education. In 1941, John Biggers enrolled in Virginia's Hampton Institute, now known as Hampton University. Biggers' education at Hampton Institute, growing up in North Carolina, and his later travels to Africa, would become the underpinning for his success as an artist and an educator.

At Hampton Institute, Biggers studied art under Viktor Lowenfeld and became friends with two fellow students: Charles White and Elizabeth Catlett — both White and Catlett would become historically important African-American artists. In 1943, while still a student, Biggers' mural, "Dying Soldier," was featured in the landmark exhibition "Young Negro Art," organized by Lowenfeld for New York's Museum of Modern Art.

Biggers followed his mentor, Lowenfeld, to Pennsylvania State University to study the art of mural painting. It was at Pennsylvanian State University that Biggers' academic career unfolded; he earned a master's in art education in 1948 and a Ph.D. in 1954. While still working on his dissertation, Biggers moved to Houston, Texas, in 1949 to start an art department at Texas Southern University, known as Texas State College for Negroes. Biggers became chairman of the art department and remained at the university until his retirement in 1983.

Early artistic recognition included the first prize at the annual exhibition of the Museum of Fine Arts in Houston for his painting, "The Cradle," in 1950. A pivotal event occurred in 1957 when Biggers was invited to participate in a six-month fellowship in Africa — the United Nations Education Scientific and Cultural Organization tour. Biggers became one of the first African-American artists t to travel to the newly independent Ghana.

Because of the UNESCO fellowship, Biggers and his wife Hazel were able to visit several countries: Nigeria, Togo, Dahomey — now the Republic of Benin, and Ghana. In Ghana, they met and became friends with scholar Patrick Hulede, who enlightened them about Ghanaian culture and history. Biggers' experiences in Africa and his friendship with Hulede became significant influences on Biggers' view of the world and his personal history and shaped a lifetime of artistic pursuits.

After receiving a second award, the Danforth Foundation's E. Harris Harbison Award for Distinguished Teaching, Biggers and his wife were able to travel for an additional six months to other countries in Africa. But it was his first trip to Ghana, Nigeria and other parts of Africa that inspired Biggers to create an award-winning illustrated book titled "Ananse: The Web of Life in Africa."

By the 1960s, when Abstract Expressionism and Pop art were the fad styles, Biggers forged his style based on ancestral heritage, African art, Southern black culture, nature and his everyday experiences. In his creative pursuit as an artist, an educator and an activist, Biggers became a major contributor to American art and culture for the next 50 years. In 1995, the Museum of Fine Arts in Houston and Hampton University Art Museum organized his first comprehensive retrospective exposing the depth of his legacy.

Best stated by gallery owner Michael Rosenfield, "John Biggers died in 2001, leaving behind a body of work that, as Maya Angelou stated, leads us through his expressions into the discovery of ourselves at our most intimate level."
Rosenfield also stated: "Biggers drew inspiration from African art and culture, from the injustices of a segregated United States, from the stoic women of his own family and from the heroism of everyday survival."
During his long-celebrated career and achievements as an artist, Biggers agreed to do a retrospective of his work at the Fayetteville Museum of Art in the 1980s. The museum exhibition and his work being exhibited locally during the past 15 years are the direct results of Biggers' ties to family.

Biggers' niece, Andretta Hales, lives in Fayetteville and was instrumental in having her uncle's exhibit at the Fayetteville Museum of Art. Hales worked with Tom Grubb, president of the Fayetteville Museum of Art, to bring the one-person exhibit of Biggers' work to the community. Since then, Hales has worked with Calvin Mims of the Ellington White Contemporary Gallery in Fayetteville to exhibit his original works in local exhibitions.

Past group exhibitions in Fayetteville include the Fayetteville Arts Council, and most recently, Hales worked with Fayetteville State University Professor Dwight Smith for the January 2019 exhibition at Rosenthal Gallery titled "Celebrating Heritage: Selected Works from the John and Hazel Biggers Collection of African and African American Art."

Hales, Smith and Mims have all been an integral part of Gallery 208 being able to exhibit Biggers' work. The exhibit at Gallery 208 is part of a larger collaboration with Ellington White Contemporary Gallery and Rosenthal Gallery at FSU. Ellington White Contemporary Gallery on Gillespie Street is exhibiting National Black American Art Exhibition, Jan.15-March 14. "Works of Paper by Ben Jones" will be on exhibit at Rosenthal Gallery at FSU between Jan. 22 and Feb. 28.
The public is invited to the reception at Gallery 208 of "John Biggers: The Lasting Legacy" on Jan. 14 between 5:30 and 7 p.m. During the opening, Andretta Hales will be introduced at 6:15 p.m. to briefly address her personal history with Biggers, his life and his work.

"John Biggers: The Lasting Legacy" will remain at Gallery 208 until March 20 for visitors to be able to see work by a celebrated American artist — an artist from North Carolina whose works evoke the value and strength of family and heritage. Gallery 208, is located at 208 Rowan St. Gallery hours are Monday through Friday, 9 a.m. to 5 p.m. Call Gallery 208 for information about the exhibit at 910-484-6200.