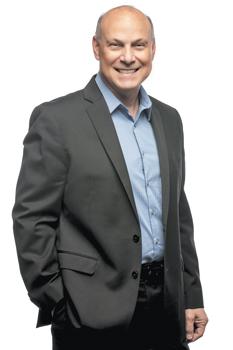 When Greg Weber and his wife Marge Betley decided to move to the East Coast from their home in Tulsa, Oklahoma, they knew precisely the kind of community they were looking for. They sought an energetic, dynamic and hospitable community brimming with opportunity. With more than three decades of nonprofit management and development experience, Weber was eager to use his know-how and talents to make a meaningful impact on the community by advancing local cultural and artistic initiatives.

After countless weeks of researching major towns and cities, most were not poised for growth. But when Weber saw the position for the president and CEO at the Arts Council of Fayetteville/Cumberland County, he was intrigued. And, he liked what he saw — a vibrant community bursting with potential and a perfect opportunity to use his training, education, experience and passion for supporting and developing the arts and the artists. His resume matched his enthusiasm with his qualifications for this newly chosen endeavor. Weber earned a Master of Fine Arts degree in Theater Technology from the University of Missouri in Kansas City and a bachelor's degree in theatre design and technology from Ball State University in his native Indiana. He also completed a residency in technical theater from the Moscow Art Theater in Russia. Weber has served as managing director to general director and CEO of the Tulsa Opera, Inc. Before that, he worked as the director of production for the San Francisco Opera Association and as technical director for the Houston Grand Opera Association. And, he is already putting these talents to good use.

Artistic Director of Cape Fear Regional Theatre Mary Kate Burke commented: "Greg Weber has been a welcome addition to the arts scene here in Fayetteville. Greg is passionate about marketing the arts and has increased Fayetteville's visibility as a tourist destination through his strategic efforts. We look forward to seeing how the economic engine of the arts in Cumberland County thrives under
his tenure!"
Weber hit the ground running. After a short transition period with outgoing president, Deborah Mintz, who spent 25 years at the Arts Council, the last 17 years at the helm leading the organization, Weber and his wife received a warm reception from the Fayetteville community. "We loved Fayetteville from the very start. ... When we came to visit, what impressed us most was the love and care shown by the front-line folks — the artists I met, the creative talent that manages the theaters and galleries — these folks are dedicated and working hard to make the community better. They put their self-interests on the shelf and push forward for the benefit of the greater good."

Fayetteville's creative community is one that radiates a genuine and refined appreciation for the arts and encourages and supports economic growth endeavors, impresses visitors and guests and enhances the quality of life of the residents of Fayetteville, Fort Bragg and Cumberland County.

From festivals to gallery openings and craft shows to theater performances, you will likely find Weber in attendance in support of the local artists. Arts development is his passion, and he generously shares his education and experience developing raw artistic talent while leveraging support and goodwill to the benefit of the arts community. Considering the amount of cultural activity in the community, the number of local artists and galleries and the enthusiasm for visual art, Weber was surprised that a city the size of Fayetteville was without a museum of art. The success of the public art program demonstrates Fayetteville and Cumberland County residents' value and desire visual art in their lives. Weber hopes with the help and guidance from community leaders that there will be a museum of art in Fayetteville's future.

It's been a little over a year since Weber took the helm of the Arts Council, implementing creative initiatives, nurturing existing relationships and creating new ones that can grow and strengthen the awareness of cultural arts. He is a constant cheerleader for the community and puts forth a convincing argument that a healthy arts community is a worthwhile investment that pays big dividends. He is also not shy about telling people that in addition to art, Fayetteville is a community that has something to offer everyone: culture, history, sports, family-friendly entertainment and an overabundance of great restaurants serving international cuisine from all over the globe.

"My colleagues from around the world, when they found out I moved here, said 'Fayette what? Where is this place and why are you going there?' It piqued their interest in wanting to know more about Fayetteville," Weber said. He found Fayetteville very easy to talk about, admitting that there is so much more here than people realize. He boasts about the many working studios, galleries, talented artists and the local commitment to arts education at all levels — public/private schools, Fayetteville Technical Community College, Fayetteville State University and Methodist University. Weber is not shy about his enthusiasm for Fayetteville and continually invites people to come and experience it firsthand.

Weber's brand of optimism, enthusiasm and passion for the arts is hard to come by, even on the best of days. Now, throw in a global pandemic, and maintaining that level of spirit and commitment can be a real challenge. But he sees it as just another opportunity to be creative. Weber was forthcoming in his opinion that this worldwide COVID-19 pandemic makes people rethink their position on a lot of things. "My favorite movie is 'Miracle on 34th Street.' said Weber. "At the end, the little girl thinks everything is going to collapse around her — and she is mumbling to herself as the world is collapsing – 'I believe … I believe … it's silly, but I believe.'" Well, that is exactly where he and his commitment to the arts stand in Cumberland County. He believes in innovative ideas, hard work and, most of all, he believes in humanity. And, he believes we will all bounce back from this crisis.

It is this kind of positive and progressive thinking that inspires an artist's creativity. One example of this is the Arts Council's newly launched initiative, Hay Street Live, which is a virtual jam session created by Weber and his staff. According to Weber, they select local artists and art venues to share with the general public. Visit https://www.wearethearts.com/hay-street-live to learn more. They also invite other local special guests to add more fun and variety and to support other local businesses through the crisis. One popular idea was to reach out and connect with local restaurants and bars to bring on their top mixologists to showcase their signature drink and share their recipe with the audience while and promoting the mixologist's restaurant.

The Arts Council is not the only arts organization using innovative ways to connect with and serve their audiences. Online art and music classes, online watch parties and digital gallery tours are a few other vehicles closing the gap between creators and consumers. Singers, songwriters and bands use apps to come together (separately) and make music and then share it for free. Nationally, celebrities from all art disciplines welcome their fans into their private homes via social media and online streaming. It's an intimate and entertaining experience, much more so than a recorded studio performance. The Arts Council hopes more local artists will do the same.

Weber will be the first to admit that during the COVID-19 crisis, it was the outpouring of support, encouragement, attitude and the neighbor-helping-neighbor community that attracted him and his wife to Fayetteville in the first place. It's times like these, though uncomfortable and frightening, that bring out the best in people. Art enhances our lives. "This crisis will not last forever," said Weber. "I want people to remember that during this time, many of the things that kept us sane, happy and moving forward were not political, mathematical or cynical. What kept us going was talking to our neighbors, our kids and interacting with our families."

Art is one of the soothing amenities that will help humanity through this crisis. And in the end, it is people like Weber who will ensure that the arts continue to grow and prosper in the Fayetteville and Cumberland County community.