Jumbo Arts International provides opportunities for arts, culture and performance as well as educational programming for people of all ages and promotes the well-being of those with intellectual and developmental disabilities in southeastern North Carolina. What that looks like in real life is things like The Journal of Creative Arts & Minds, which is a juried project that highlights art and artists. Other JAI projects include virtual art exhibits, benefit concerts and other music-related events. JAI's most recent project involves a collaboration with one of the group's community liaisons,
singer/songwriter Morris Cardenas, to create a heartfelt music video recording of the 1960s hit "Get Together." Known for its refrain, "Come on people now/Smile on your brother/Everybody get together/Try to love one another right now," "Get Together" is a plea for peace, brotherhood and love. It explores the dynamic of love versus fear and having to choose between them. And the message couldn't be more timely.
The project has been an uplifting endeavor for everyone involved. "It's been an interesting year," said Jumbo Arts
International President Margie Labadie. "We haven't been able to do any in-person programming. With this video, we can contribute something that is really important right now. We are very excited about sponsoring the video and thrilled that Morris brought it to us as a fundraising opportunity. The music is fantastic. They did a fabulous job. We are just really excited to sponsor it."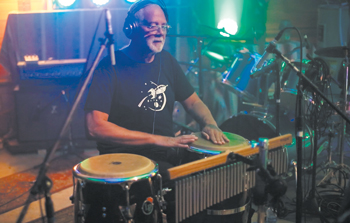 The video features North Carolina professional musicians who came together because they believe in the song's message. They believe it is a positive message and one everyone needs to hear. "COVID-19 wasn't even on our radar when we started the production," Cardenas said. Considering how much the world has changed in recent months, "I think we could all use some peace and love to get us through," he added.
Participants in the video included Cardenas, acoustic guitar; Danny Young, guitar and vocals; Cliff Bender, guitar; Darrell Collins, bass guitar, filming and production, mixer and audio; Tony Raimondo, drums; Robert Turner, piano and Bob Lawrence, congas, chimes and percussion. The backup singers included Bill Joyner, Marie Grimsley, Danny Young, Allen Diffee, Monique McCleod, Terie Lawrence and Michelle Weaks.
"Darrell Collins of Sound Images of North Carolina LLC, who did the majority of the audio and camera work, did such a great job," Cardenas said. "The video represents a statement of peace, love and understanding among us all. It is not to be used as a political statement. And among the musicians in the video, there are several sects of religion and races — we have white, black and brown people in the video, showing we can all come together as one."
Cardenas said he got the idea for the video when he was involved in some contentious discussions on social media. "There are all kinds of 'experts' on Facebook, and there was all kinds of noise and fighting. I found myself getting involved in it, and I realized I needed to take a step back and take a breath. Then COVID happened and George Floyd. I am not religious, but the song speaks about coming together in more than just getting together. It has to do with spiritually coming together, too."
So far, the video, which used the song with permission from Universal Music Publishing Group, has been well-received. "We had only one person put their thumbs down, so far," said Cardenas of the YouTube rating system. "We've been heard in Vietnam and Hong Kong and Spain and France. We've been heard in England and in El Salvador. That's just what I am aware of, and it's not counting all the states we've been heard in in the U.S. The reaction has been very good, in my opinion."
While this project is large in scope, this is not the first time Cardenas has worked with JAI. The organization has produced music programs, called Jumbo Jams, for about eight years. Along with Cardenas, JAI has supported multicultural music performances in North Carolina, most recently in the Hispanic community. Working together on this new music video seemed like a natural fit.
Released on YouTube, the video was directed by Cardenas, who has entertained crowds from Los Angeles to Fort Bragg, North Carolina, to El Salvador. The video is also on the Jumbo Arts International Facebook page as well as through its website at JumboArtsInternational.org. Donations in any amount are appreciated to the all-volunteer, federally recognized nonprofit. Tax deductible donations are only used for programming and projects.
Cardenas has another project n the works called American Dream SOS, which is based on one of his songs.

While JAI is always looking for opportunities to support art and artists, live events have come to a standstill, at least for now. But the organization found a way to support an entirely new group of artists with its summer 2020 issue of The Journal for Creative Arts & Minds. "We did an all-student publication for the students who didn't get to have an exhibition because of the virus," said Labadie. "This is the first time we've ever done a student journal. I teach at UNC-Pembroke, and the art students didn't get to do the capstone project. The journal features 21 students who it is the first time they've all published their own works and interviews." The journal is available online at the JAI website.

Visit https://jumboartsinternational.org/index.html to view the "Get Together," video, to learn more about JAI or to view The Journal for Creative Arts & Minds.