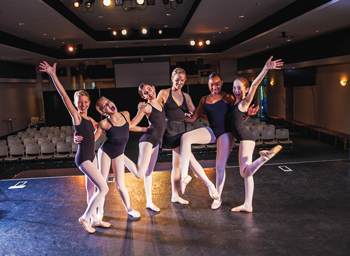 While art is good for humanity in general and can have positive impacts across a person's lifespan, it can be especially beneficial in how children develop. A report by Americans for the Arts states that young people who participate regularly in the arts (three hours a day on three days each week through one full year) are four times more likely to be recognized for academic achievement, participate in a math and science fair or win an award for writing an essay or poem than children who do not participate. And honestly, whether it is dance, drawing, writing creating, sculpting, or you name it — art is fun. However, engaging in art during a pandemic looks and feels different than art-related events did pre-COVID. Check out some of the upcoming opportunities to support youth in the arts — and keep your creative juices flowing, too.

Sunday, Aug. 9, from 7-8:30 p.m., join the community for a virtual fundraising event. This event is different because it is by kids and for kids. Tune-in to Facebook on the LeClair's General Store page for a variety show with individual performances as kids entertain from their homes — separately but together. The event also includes an online auction with one-of-a-kind artworks created by local youth throughout the community.

The goal of the event is to make local arts organizations accessible to all youth regardless of race, beliefs, disability or economic status. The event benefits the following organizations and their youth scholarship funds: Cape Fear Regional Theatre, The Gilbert Theater, Carolina Performing Arts Studio and Temple Theatre. Search "Kids With Hearts For The Arts! A Virtual Fundraising Event!" on Facebook for more information.

Gilbert Theater rolls out its adult theater education series starting Saturday, Aug. 15, with a session titled "Singing with Sarah." Directed by education director at the Gilbert and voice teacher Sarah Chapman, the event offers a short introduction to singing for the stage and preparing for auditions as well as some fun singy-songy exercises. The class runs from 10 a.m.-noon.

The second session in the four-part series is titled "Improvisation with Gage" and runs from 10 a.m. to noon, Saturday, Aug. 22. Instructor Gage Long will help attendees not only better understand improv but help them get more comfortable and proficient with it, too.

Saturday, Sept. 12, the "Stage Makeup/Special Effects" session offers a look at the basics of stage makeup, in addition to special effects like wounds and age — and perhaps even a space alien. The class runs from noon-2 p.m.

The session "Intermediate Acting Techniques" brings instructor Justin Toyer's talents to the forefront. He'll outline basic acting techniques, audition preparation, memorization techniques and how to connect with your character emotionally. The class is from 10 a.m.-noon, Saturday, Sept. 5.

Find out more about these and other opportunities at Gilbert Theater at http://gilberttheater.com/education.php.