Methodist University's David McCune Art Gallery is showcasing the "Rembrandt: The Sign and the Light" exhibition through Nov. 18. The exhibition displays a series of 59 etchings by the well-known Dutch painter Rembrandt van Rijn and is a part of the gallery's 10-year anniversary celebration.
"One of the things that's very attractive about this show is Rembrandt's way of storytelling," Silvana Foti, Art Director and Curator of McCune Gallery said. "The way he captures human quality, almost seems like his subject matter was staged, they're extremely theatrical."
Rembrandt was a 17th-century Dutch artist who established himself as one of the greatest storytellers in art history through his ability to render people in his work. Rembrandt's work is known to approach "real life" through theatrical transposition.
Foti described the etchings to have a psychological emotional drama that's connected between the images when looking at them.
The etchings on display offer a variety of subjects, including religious figures, scenes, portraits, figure studies and famous beggars from Rembrandt's 35-year career. The name of the exhibit is derived from the technique used by Rembrandt in the etchings that are on display.
"There will be some etchings that are very dark, and when you begin to examine them there will be sparks or light that will just illuminate," Foti said. "A kind of technique used by Rembrandt known as Chiaroscuro, creating a strong contrast between light and dark."
Each visitor is provided with a magnifier to witness the details in Rembrandt's etchings.
Most people think of Rembrandt as a painter and are surprised by his etchings that profoundly changed the course of art history, Foti said.
"It would be an awful shame to not be able to see this exhibition in person, this is a once in a lifetime for many people," she said.
The David McCune Art Gallery is known to host two shows per year, a regional show and an international show. Shows are planned a year or two in advance. The different exhibits are selected based on things like familiarity with the artists' names, different time periods, different styles and likes, Foti said.
"The Sign and the Light" exhibition is a part of the gallery's 10-year anniversary celebration. The gallery has brought some well-renowned names like Picasso, Rodin and Chagall, among others, to exhibitions in the past.
"I think we have been a pretty big gem here in Fayetteville, offering art not just to the university but community," Foti said.
The gallery has attracted many art lovers from across different states like New York, Georgia, Virginia and more who are surprised to see such shows come to a small university like Methodist University, she said.
Senior graphic design major Tom Gore said that it was amazing for him to see these great pieces of art, right here at Methodist University, without having to travel to New York.
"Methodist sets itself apart from other universities in many ways, but for a university to bring in master artist exhibits such as Picasso, Rodin, Chagall and Rembrandt year after year is just unheard of," said Bradley Johnson, director of Marketing & Communications at Methodist University.
He said he toured the exhibit with his wife last Friday, and there were visitors in the gallery from Nebraska.
"With Methodist allowing in guests to see original, 17th-century works from Rembrandt at no charge, it is truly a gift to the Fayetteville community and beyond," Johnson said.
The museum has attracted fewer visitors due to the pandemic. The ticketing and limitation rules in place may be the issue since people are usually more impromptu and didn't have to commit to a time and date in the past, she said.
Foti emphasized the importance of witnessing the exhibit in person and not just virtually to experience and understand the talent, details and technique of Rembrandt's etchings.
"The main thing is you're going to be surprised by the etchings, the amount of detail and the way that Rembrandt has the ability to capture your human quality and the world around him," Foti said.
The exhibit is free to the public but with reserved days, times and face covering requirements due to COVID-19 restrictions. Visitors can go to https://davidmccunegallery.com to reserve a date and time and to access the free ticket.
The gallery is open Tuesday through Friday from 11 a.m. to 5 p.m. and on weekends from noon to 4 p.m. The gallery will be closed Nov. 11 for Veterans Day.
For more information about the gallery, exhibit and to access the free tickets, visit https://davidmccunegallery.com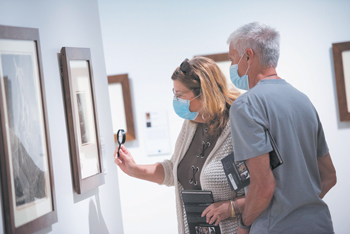 Pictured: (Left) Aurie and Edward Parker of Wake Forest visit the Rembrandt exhibit at Methodist University's David McCune Art Gallery. (Right) Debbie Stewart of Fayetteville views an etching by Dutch artist Rembrandt van Rijn.