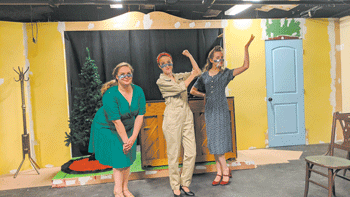 This holiday season the Gilbert Theater presents its newest Christmas production, "The Carols," starting Nov. 27.
"The Carols," with its classic 1940's style comedy set during World War II, is a story about the three Carol sisters who run the local Veterans of Foreign Wars post and are struggling to put on their annual "A Christmas Carol" production while facing another dilemma — the lack of men in town due to the war.
"So they decide they're going to cast all women, then put an audition notice out, nobody shows up but this surprise guest," Director Robyne Parrish said. "This one dude, Melvin, shows up and he's not quite right but he's all they've got, so they hire him on and they put together one of the most ridiculous 'Christmas Carols' of all time."
She describes it as a sweet, feel-good movie about family, loss and hope. The production shows the sisters struggling to put on their show with just four people, said cast member Evan Bridenstine.
"It seems impossible for quite some time but then they perform and that's the act two," he said. "The songs are great, none of them are those you've heard, most of them have that ear-worming quality that gets in your head and stays for a while."
Bridenstine, who plays the character of Melvin, described the production as funny, yet having a seriousness to it, due to the times it's set in.
Parrish said the themes for the hour and 45-minute show are family, 'there's no place like home,' and a kind of Christmas carol in disguise.
The Artistic Director for the theater, Lawrence Carlisle, described the show as something on a lighter note that is needed during current times.
"The Carols" will run three different weekends: Nov. 27- 29, Dec. 4-6 and Dec.18-20. Patrons can purchase tickets on the website. Tickets start at $16 but the theater offers discounts for military, students and first responders. There will be a military appreciation day with tickets being $10, Carlisle said.
Due to COVID-19 restrictions, the theater, which usually holds about 100 people, has had to cut down capacity to 25. There will be temperature checks for patrons, a requirement for masks and contactless entry with use of electronic tickets.
On Nov. 28, the first Saturday show, there will be a masked performance where the actors will wear face shields to accommodate patrons who don't feel comfortable with mask-less actors, Parrish said.
Despite continued concerns with the pandemic, the Gilbert continues to produce local entertainment even as it struggles, Carlisle said. Having to reduce audience capacity, buying additional cleaning supplies and rearranging how they do things has been interesting, he said.
Parrish said the theater already operates on a small budget where about 50-75% of the annual budget comes from ticket sales.
"It wasn't going to work for us to just go in the dark for a year, and wait for a vaccine," Carlisle said. "To not have any shows at all, you know, we would have just gone out of business."
Since a lot of people can't be with family this holiday season due to the pandemic, Parrish said attending a show can be a way for them to feel like they're a part of something.
"If you're looking forward to a little bit of joy during the holiday season and a little opportunity to escape and just smile … this show will allow people to escape, for a little while, from all that we are going through right now," she said.
For more information on "The Carols" and Gilbert Theater, visit www.gilberttheater.com/index.php
Pictured: Cast members of "The Carols" rehearse for the musical scheduled to open Nov. 27 at the Gilbert Theater.