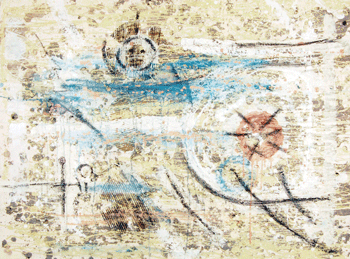 The possibilities of painting and mixed media is the underlying theme of the new exhibit opening at the Arts Council of Fayetteville and Cumberland County during 4th Friday on July 23.
Revelation: 50 Years of Painting: Works by Dwight Smith is the Art Council's first 50-year retrospect exhibition by a living artist, working in an abstract style.
The public is invited to attend the opening or visit the Arts Council during the last week in July and through September 11.
Visitors to the gallery will have the chance to see the progression of Smith's work and experience the joyfulness he brings to an abstract style of painting and working in mixed media.
To see Smith's work is to become more familiar with a different way of looking at the possibilities of image making. Visitors will hopefully leave the gallery having greater insight in "how" the work of Smith conveys meaning in his style and ways he works with materials.
To understand the "how" everyone visiting the exhibit should allow themselves to experience the art "as it is." If you are an individual who prefers figurative or narrative works of art, take the time to see or try to see what the artist has been exploring for the last 50 years to express meaning in his work.
Not required to enjoy Smith's work, but understanding he comes from the tenets of the modernist school of abstract expressionism, is a doorway you should enter and immerse yourself in the style of abstraction.
Smith has been always driven by the early abstract expressionist's principles in painting: the sensation of immediacy, a painting is not a picture, but an object that has the same capabilities as sculpture to occupy space, possess thickness, density, and weight.
In lieu of descriptive subject matter in a painting to evoke meaning, Smith focuses on form to conjure meaning. Although he started off predominantly in watercolors, he later moved to oil and acrylic.
In the latter mediums, he does not use layers of transparent colors to create the immaterial; instead, the opacity of the ever-present paint surface, or the collage surface, leads us to materiality — the physicality of the work.
The opacity of Smith's color palette is not an elusive approach to painting; it invites us to know the physical sensation of touch. Combined with texture, we can begin to understand his painting is not about arrested or metaphorical touch, but the immediacy of touch.
Being open to abstraction as a style, visitors will be able to study and experience how this artist embeds meaning in materials. For Smith, the sources of his lifetime pursuit in painting are combining iconic symbols with the exploration of surface quality and the power of abstraction to communicate an idea or a feeling, and collage as a significant 20th century method.
This search stayed with him after his graduation from Wayne State with a Bachelor of Fine Art in Painting in 1976, during his return to Wayne State to earn a Master of Art in Painting in 1992, and the highest studio degree, a Master of Fine Art in
Painting at the Art Institute of Boston at Lesley University, Cambridge, Massachusetts in 2012.
Knowing the artist's statement, we can follow the timeline of his pursuit of "integrating opposites into a state of harmony and balance. Each work is a commitment to intimate concerns about painting and the language of abstraction. Research and investigations into contemporary painting involve mixed media painting and drawings that are influenced by material surfaces, textures and scale."
Seeing the timeline of the paintings in the exhibit, it is easy to identify when the use of symbols emerged and the significance of the symbol. Smith's artists statement explains the purpose of symbolism in his work: "Elements of design referenced in African, African American, or multi-cultural imagery create a catalyst to begin a visual language that informs the work. Through the work, I am responding to the tension generated by a resounding past and an insistent present."
The artist's commitment to the abstract form and the use of specific symbols guides us to understanding personal meaning in his most recent work. Smith explains: "The works celebrate life, family histories and tributes to artists. I express certain social realities concerning the world while exploring aesthetic qualities of being black in America and addressing the literal symbology of contemporary blackness within the legacy of Abstract Expressionism, creating a pliable structure for intuition, improvisation, and chance."
Building on 20th century modernism, contemporary art is even more varied and complex. Personal expression can include beauty, but most often works can be highly political, globalization has influenced styles, the digital age continues to impact everyone, and themes of identity and social unrest is prevalent. Yet, Smith has remained focused on the formal problems of painting and the expressive power of material.
His style is a way to express his personal narrative about states of being — specifically his experiences of being an African American male in America. Even though growing up Black in America continues to have serious challenges and obstacles in American culture, we leave Revelation: 50 Years of Painting understanding how joyfulness, spirituality, love of music, love of dance, and love of life are the core of Dwight Smith's beingness: and it is this feeling, or state of being, which is communicated throughout his work.
It is important to understand why an artist has the impulse to create, but it is also important to know what choices an artist's makes that encourage or support their efforts to remain an artist.
For Smith, a key influence was an African American art organization which was established in the 1950s, the National Conference of Artists, Michigan Chapter.
While galleries and the "artworld" were not promoting African American artists up until the 1990s, the NCA was an important meeting place for artists to work together, encourage each other, have exhibits, travel to other countries, and network.
As a very young and emerging artist, Smith was able to interface with a network of seasoned African American artists, many historically important in American Art. Mentored by John A. Lockart, knowing David Driskell, Howandena Pindell, Romare Bearden, Shirley Woodson and Al Loving had the greatest influence on his personal development of style.
After retiring from a career as the advertising and display coordinator for the Automobile Club of Michigan in 2007 (and remaining an exhibiting artist), Smith, and his immediate family (partner Calvin Mims and Shirley Mims) moved to Fayetteville.
Besides being an artist, the move to North Carolina began a new chapter in his life when he became an educator. Currently Smith is a tenured Associate Professor of Art at Fayetteville State University in the Department of Performing and Fine Art.
While teaching at Fayetteville State University with a master's degree, another important influence on Smith was when he decided to go back to graduate school to earn a Master of Fine Art at the Art Institute of Boston.
He stated, "Everyone needs something or someone to solidify the legitimacy of your work during different phases. While earning my MFA the comments from the visiting artists helped to do that. As well, it was a period when I could revisit and analyze my work up to that point."
Smith's accomplishments as an artist are way too extensive to start listing in this editorial. It suffices to say he is an artist who continues to show regionally, nationally and internationally, his works continues to be purchased by collectors, his paintings are in many private and public collections, including museums, and he has received many national honors and awards.
Dwight Smith (and his partner Calvin Mims) have had a significant impact on the arts in Fayetteville by owning and operating Ellington White Contemporary Gallery on Gillespie Street.
In addition, Smith has significantly contributed to the cultural landscape of Fayetteville and nationally by exhibiting, his continued participation in NCA, scholarly presentations, curating significant exhibits, and his community/professional service.
Revelation: 50 Years of Painting at the Art Council is well worth the time to visit. But it is not an exhibit to rush through. One will have to spend quiet time with the work to see how a consummate artist gives evidence to a well-known statement:
By knowing your craft, you spend less time in thinking about the process and can focus on the "why" of painting."
The exhibition opens during 4th Friday on July 23. The public is invited to the free event, and the exhibition will remain up until September 11.
For information on the exhibition call the Arts Council at 910-323-1776 or visit www.theartscouncil.com/.
The Arts Council is located at 301 Hay St. in Fayetteville. Hours of operation are Monday – Thursday from 9 a.m. until 5 p.m. and Friday from 9 a.m. until noon.
Pictured above: "Wading in the Water Alvin Ailey" by Dwight Smith
Pictured Below:
(Left) "Homage to Al Loving" by Dwight Smith
(Middle) "A Conversation with Norman Lewis" by Dwight Smith
(Right) "Girl in the Yellow Raincoat" by Dwight Smith