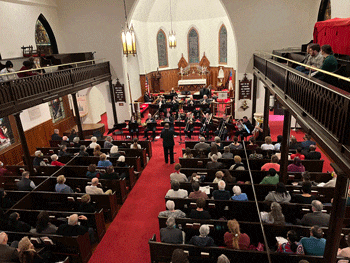 The Fayetteville Symphony Orchestra's unofficial home at St. John's Episcopal Church enhances the intimacy of performances. The upcoming performance, "Too Hot to Handel," will be performed in its intimate setting at St. John's.
"We will be performing at St. John's on Jan. 21, [the performance is] entitled 'Too Hot to Handel' featuring music by the great English-German baroque composer, George Frideric Handel, the composer of the famed Hallelujah Chorus," said Stefan Sanders, Music Director at the Fayetteville Symphony Orchestra. Sanders is a graduate of the Julliard School, the University of Texas at Austin, and the Interlochen Arts Academy.
Baroque Era music dates to approximately 1600 to 1750.
Handel received his training in Halle and worked as a composer in Hamburg before settling in London in 1712. Handel's compositions include 42 operas, 25 oratorios, more than 120 cantatas, trios and duets, numerous arias, odes and serenatas, solo and trio sonatas, 18 concerti grossi and 12 organ concertos.
The range of Handel's music inspired the upcoming "Too Hot to Handel" concert. While he wrote a lot of sacred music, as well as purely instrumental music, and operas the latter two will be the focus in this program.
The highlight of the program is Handel's "Music for the Royal Fireworks."
Bronwen Pence will perform as the soprano soloist for "Too Hot to Handel." Pence has a bachelor's degree in vocal performance specializing in opera from the University of Michigan. She has performed in numerous operas, operettas, musicals and choirs over the years. She currently is a member of Cumberland Choral Arts and a member of the Cross Creek Chorale.
"I am looking forward to collaborating with such an expressive and talented conductor and ensemble to present the fullest expression of these songs," Pence explained. "I have performed Handel's work before but only with Piano accompaniment. It will be a joy to perform them with full orchestra."
Pence explained that the music in this program is for everyone.
"Live music from talented performers is an uplifting experience," said Pence. "You do not have to be an expert or a musician to enjoy the works."
Sanders also touts the approachability of the program for all listeners and his favorite part of the program is the diversity in style and genres in which Handel wrote; the selections in the "Too Hot to Handel" program highlight this.
"If someone has never been to see and hear the symphony, I encourage them to come with an open mind and an open heart," Sanders said. "Classical music is for everyone and does not require anything from the listener other than their attention. Anyone that enjoys live musical performances should attend this program."
To purchase tickets, you may contact the symphony office at (910)433-4690 or you may purchase online through the website https://www.fayettevillesymphony.org/.