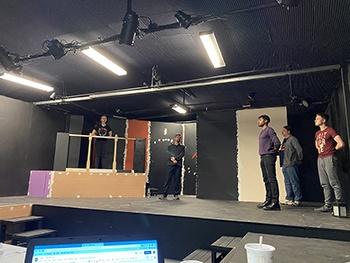 The Gilbert Theater, "Theater with a Pulse," brings "Othello," a tale of love, envy, betrayal and race to its stage from March 25 to April 10.
The Gilbert is an award-winning community theater located in the heart of downtown Fayetteville, founded in 1994 by Lynn Pryer. Now in its 28th season, the theater prides itself on bringing a diverse selection of topics, tastes and artistic styles to the stage.
"Othello" tells the story of Venetian general Othello, a nobleman of Black Moorish descent. Othello struggles to hold on to his reputation, his secret marriage to Desdemona and his military career at the hands of Iago, a scheming, lower-ranked soldier driven by jealousy.
Written around 1604, Othello tackles themes that co-directors Lawrence Carlisle III and Montgomery Sutton believe still resonates with audiences today.
"This play is about something that at its heart is universal," said Carlisle, who is also artistic director at the Gilbert Theater.
While the idea of Shakespeare may seem intimidating for some, Sutton's adaptation is designed to be accessible, bridging the gulf between classical works like Shakespeare and modern-day audiences.
The production will be modern, with the characters dressed in everyday clothing. Sutton wants the characters to be "incredibly recognizable" to the people in the audience.
The play will unfold as a "psychological thriller," with the run time cut to 90 minutes and one intermission.
"We've taken fine-grit sandpaper to this play and made it smooth and aerodynamic."
"The goal," Sutton explains, "is to tell a story simply and clearly," Carlisle echoes the sentiment, expressing his deep appreciation for this play. He feels it is one of Shakespeare's "most focused and straightforward works."
"We've trimmed a lot of fat off the language," Sutton explains. "It's still rich; it's still heightened; it's still Shakespeare, but with nothing extraneous."
Ultimately, Carlisle and Sutton want theatergoers to feel connected. Engagement is a word that comes up a lot when speaking about the play's production and their hopes for the audience.
"I want people to walk away really connecting with questions the play asks about human nature, what it means to be a villain, and what culpability we have for our actions," Sutton said. "Come ready to have your assumptions challenged."
Carlisle invites the audience to come and truly experience theater, stating that "live theater is a much more visceral experience than other forms of entertainment."
"I want people to come to enjoy live theater, enjoy the show, and come away with more appreciation for Shakespeare," Carlisle said. "If you don't like Shakespeare or feel you don't understand Shakespeare — this is the show to see."
While online ticket purchases are recommended, the box office will be open one and a half hours prior to the show's start.
General admission tickets are $18; discount tickets for first responders, military, students, and seniors are also available. Tickets can be purchased at www.gilberttheater.com. For more information, call 910- 678-7186.