The Carolina Country Music Association is hosting the two-day North Carolina Songwriters Festival in Fayetteville May 6 through 7.
Known as the "Longest Songwriter Pub Crawl" in North Carolina, the festival features the independent singer-songwriters behind some of country music's greatest hits.
Unique in that it's not housed at a single venue, the event encourages those in attendance to sample the wares and listen to music at several different locations.
Starting at 6 p.m. on May 6, the festival, which will take place at around a dozen different venues across Fayetteville and surrounding areas, is a way for fans to interact with independent singers and songwriters up close.
Venues familiar to locals, such as Dirtbag Ales, Fayetteville Bakery and Café, Dirty Whiskey Cocktail Bar, and their newest venue Gates Four Golf and County Club are free and open to the public. However, some private events will come at a cost.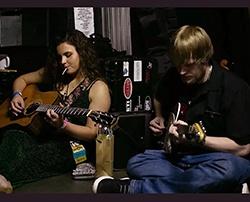 Host of Carolina Country on 100.1 WFAY in Fayetteville, and Executive Director of the Carolina Country Music Association, Christy 'Sweet Tea" Andrulonis, sees the festival as an excellent opportunity for everyone involved.
"This festival is a way to promote independent artists and draw the community into multiple venues," she said. "Live music will be happening all over the city, bringing people together."
The festival will feature acoustic music and allow singer-songwriters to share the stories behind their greatest hits before they play.
Some venues will feature one artist, while others will have as many as four performers on stage at a time in a round table discussion of their work.
While there will be several indie artists who have submitted applications to be a part of this event, the festival is a draw for some big names in the industry. Damien Horne, a North Carolina native and member of the MuzikMafia, will be in attendance to share his music and his story with festivalgoers.
According to their online bio, Carolina Country Music Association is "an industry trade group for singers, songwriters, musicians and country music fans." In addition to "sharing the stories of the Carolinas," the organization prides itself on being the most prominent supporter of independent singers and songwriters with roots in the Carolinas.
North Carolina shares a long, rich history with country music and has had a significant impact on the genre over the last 90 years or so. Industry legends such as George Hamilton IV and Randy Travis call North Carolina home. This festival is an opportunity to bring exposure to the great artists of Carolina yet to be discovered.
When the festival is over, Andrulonis hopes attendees will leave with a greater appreciation of these indie artists and the incredible work they do to bring music into people's lives.
"I hope they leave with an understanding of just how important it is to support local art and music. There's much more going on behind the scenes of your favorite No. 1 song on the radio. There's so much more than meets the eye."
For more information and a complete list of artists and venues, visit www.carolinacountrymusicassociation.org/ncsongwritersfestival.