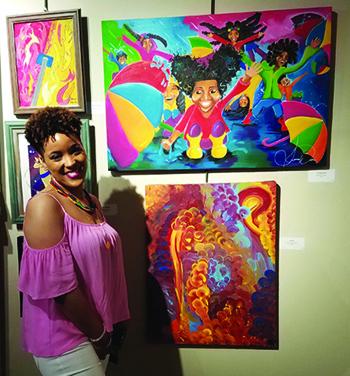 On Friday, June 17, the Public Works Commission will host its 17th Annual Public Works Art Exhibition. The event will be held from 6 to 9 p.m.
The self-proclaimed "biggest local art show" will be on display at The Arts Council of Fayetteville and will be an evening filled with much to see.
To celebrate 100 years of service, PWC teamed up with The Arts Council of Fayetteville|Cumberland County and became an official sponsor of their annual art show. This event, previously titled Public Exposure, was a part of the community before PWC's involvement in 2005. With a name change to Public Works, the event has become one of PWC's most valued endeavors.
The Public Arts Exhibition is the Arts Council's largest attended show each year, with as many as 200 pieces of art on display. According to PWC Communications and Community Relations Officer Carolyn Justice-Hinson, for PWC, each year continues to get bigger and better.
While some might question the pairing of a utility service and local art, Justice-Hinson feels it makes perfect sense.
"This event is a great celebration of art in our community because it's open to everyone — just like us," she explained. "We take the opportunity to be there on opening night, and we'll have information available on conservation, and we exhibit a few of our trucks and equipment. For us, it's a good tool for community outreach and education about some of our services.
Like so many other major events around the city, this summer is the first Public Works Art Exhibition since 2019 due to COVID-19 restrictions. The event, held downtown during the Juneteenth weekend, will feature art and artists of all ages, backgrounds and skill levels.
Justice-Hinson is excited to see new art and artists back up on the wall and is excited for them to share their work with the public.
"I love opening night," shared Justice-Hinson. "It's open to so many people, there are a lot of first-time artists, and that's my favorite part of it — to see the artist and their friends and families, standing by their work and sharing their inspirations. It's really gratifying."
The art on display is for sale at the artist's discretion and can at times cause a bit of a frenzy. Justice-Hinson recalls the entrepreneurial spirit of one young artist and his desire to sell his picture of a giraffe, drawn in crayon, for $35 to donate to his Boy Scout Troop. A bidding war ensued, and the little artist walked away with a hefty donation. In short, the PWC Art Exhibition is a place where anything can happen.
This year, the People's Choice Award for favorite art pieces will be online on the Arts Council of Fayetteville|Cumberland County website. Voting will stay open until July 23.
Justice-Hinson feels the show is for everyone, even those not normally inclined to think much about it.
"We have fabulous artists in this community who submit year after year, and you never know what to expect, but you always know it's going to be great. Even if you aren't really into art, people can find something with which to identify in this show. There will always be something that speaks to the times."
The PWC Art Exhibition opens Friday, June 17, and will run until Sunday, Aug. 20.
The Arts Council of Fayetteville|Cumberland County is located at 301 Hay Street in downtown Fayetteville. For more information, visit www.facebook.com/events/403683081667234 or www.wearethearts.com/exhibits.